Shillong, Sep 20: Mawlai defeated Sawmer 2-1 in the season-ending match of the First Division 2019 at the JN Stadium here today to book their spot in next year's Shillong Premier League.
Oversharp Iawphniaw scored in the 21st and 54th minutes before Arkom Mawlong pulled one back for Sawmer in the 64th.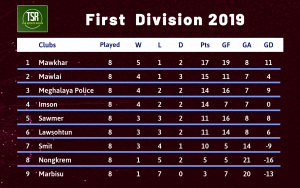 The ball was neatly laid on for Iawphniaw in the 21st minute and he squeezed it past the Sawmer goalkeeper for the lead.
His second goal saw him time his run perfectly to beat the Sawmer defensive line. He then ran up the left and took a shot from a difficult angle. Mawlai have scored 11 goals all year and seven of those have come via Iawphniaw. He is now the top scorer of the First Division.
A Rheadolf Nongneng Daloi corner in the 64th minute then led to Sawmer pulling a goal back when Mawlong headed the ball in. This happened to be the 100th goal of the season.
(TSR photo. Mawlai celebrate their second goal)