Shillong, Oct 16: Meghalaya lost their ninth and final match in the Vijay Hazare Trophy plate group to Chandigarh by six wickets in Dehra Dun today.
Chandigarh won the toss and made Meghalaya bat first, restricting the latter to 184/8 in 50 overs. Chandigarh then chased the target down for the loss of four wickets in 43.5 overs.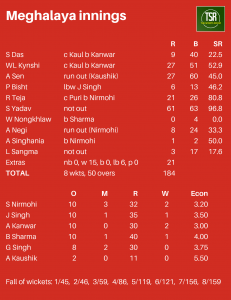 Meghalaya openers Swarajeet Das (9) and Wallam Lyngdoh Kynshi put on a slow but welcome 45 runs for the first wicket. Kynshi and Amiangshu Sen were both dismissed for 27 runs each and Punit Bisht (6) and Ravi Teja (21) failed to really get going. Sanjay Yadav, however, did and top-scored with an unbeaten 61 from 63 deliveries.
Among the Chandigarh bowlers was Gurinder Singh, who played for Meghalaya as a guest-professional last year. Gurinder, however, did not manage to take a wicket against his former team.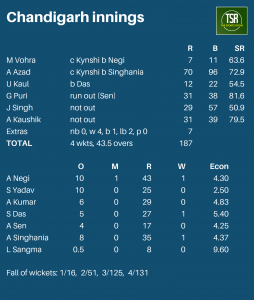 Chandigarh lost an early wicket to Abhay Negi (1/43) but otherwise did not face too much trouble on the way to making 187/4. Meghalaya's other wicket-takers were Das (1/27) and Aditya Singhania (1/35).