Shillong, Nov 12: Shillong Lajong won the Shillong Premier League for a fourth time after beating Ryntih 4-0 in their last match at the JN Stadium here today.
In the first leg Ryntih held Lajong to a 2-2 draw on 11th October.
Today Amon Lepcha scored in the first goal in the 13th minute followed by Freestar Kharbangar in the 38th. Samuel Lyngdoh Kynshi made it 3-0 in the 46th minute. Naorem Mahesh Singh then completed the rout with a 90th minute penalty conversion.
Lajong have an unassailable 27 points and can't be overtaken by second-placed Rangdajied United even if the latter win their final fixture on Thursday.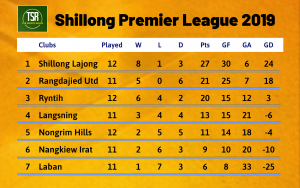 There seemed to be plenty of nervous energy among the players when the match started, with Ryntih looking to win to go second in the standings. Just one point would have been enough for Lajong to lift the title, but they were aggressive at the right moments and could breathe easier when Lepcha tapped in the first goal after a corner.
A bad touch by Ryntih captain Brolington Warlarpih then gave Lajong the chance to counterattack and they outnumbered their opponents, allowing Kharbangar to score the second goal.
The third goal in under a minute into the second half saw Ryntih goalkeeper Maitshaphrang Kharumnuid punch a shot off Donboklang Lyngdoh straight into the path of Kynshi and he got the ball over the line.
Finally, a handball spotted by the assistant referee gave SLFC a penalty, which was converted by Naorem and which crushed the hopes of Ryntih's significant number of fans in the ground.
This was the first SPL title for Lajong since 2016 and restores them as the top club in Shillong.
Tomorrow Laban are scheduled to face Nangkiew Irat at 2:30PM.
(TSR photo. Shillong Lajong are in red, Ryntih in grey/black)