Shillong, May 24: Mawlai and Laitkor will meet in the final of the Shillong Sports Association's first Women's League after both came through their respective semifinal matches comfortably at Third Ground, Polo, here today.
Mawlai (pictured below in yellow/green) were 3-1 victors over Maw-U-Tieng while Laitkor blanked Lawei 2-0.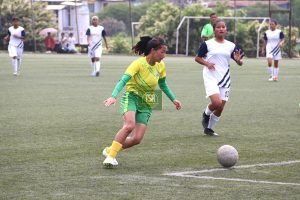 A handball by a Mawlai player in the box gave Maw-U-Tieng their only goal via a penalty, converted by Lavinia Warjri (29′), which also happened to be the first goal that Mawlai have conceded in six games of the tournament.
Mawlai scored through Ibashisha Khongwet (15′), Sildaris Khongwet (24′) and Rushia Dkhar (53′). They have now scored 38 goals in all.
In the other high-quality match, Lawei had their chances but were a little lacking in terms of getting into good scoring positions and finishing. Although they topped Group B (Maw-U-Tieng were second), Lawei were not prodigious scorers – they got to the final with just six goals to their credit.
Laitkor still had to overcome a stiff challenge and got the opening goal in the 21st minute of the hour-long match via Ribahunshisha Kharshiing (No. 11 in the featured photo). In the second half, a Kharshiing long-range shot was parried by the Lawei goalkeeper but the rebound fell nicely for Solina Jaba (39′), who put the ball into the back of the net.
Mawlai and Laitkor qualified for the semifinals as the two best teams from Group A. When they met during the group stage, the match ended 0-0, one of only two goalless draws we've had in 32 matches. Both ended up with 13 points and Mawlai were in front only on goal difference.
Given the quality that both teams have demonstrated to get to the final, the title match – on Friday at 4PM – should be a cracker!
(TSR photos)