Shillong, Apr 19: The decision of the All India Football Federation's league committee to deem the I-League 2019-20 season concluded prematurely due to the coronavirus pandemic has provided a small reprieve to North East clubs Aizawl FC and NEROCA, who were both struggling to avoid relegation.
The committee took the decision to deem the league concluded, with Mohun Bagan named as champions, yesterday and has sent its recommendations to the AIFF's executive committee.
Bagan had already amassed an unassailable 39 points, 16 more than second-placed East Bengal, before the I-League was suspended last month.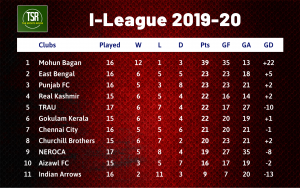 Among its other recommendations, the committee also decided that the remaining prize money should be divided equally among the remaining 10 clubs and there should be no relegation for this season.
AIFF development side Indian Arrows finished at the bottom of the standings but, as they are immune from relegation, it was more of a fight between NEROCA and Aizawl to avoid the drop even though, with plenty of matches still to play, they could have technically – if unlikely – finished in the top half of the table. Excluding the Arrows, Aizawl have won the fewest number of matches (three), while NEROCA have lost the most (eight).
Meanwhile, with nearly 500 matches still to be completed in the various youth leagues, the committee recommended to conclude the Sub-Junior League, Junior League, Elite League and U-17 Khelo India Girls League where they stand right now and start afresh from 2020-21.
As far as the Second Division League is concerned, it was decided to wait on AIFF executive committee and Asian Football Confederation decisions before considering the feasibility of organising a shorter tournament for qualification to I-League 2020-21.
(All India Football Federation photo)