Shillong, Nov 23: Mawshbuit and Rynjah qualified for the quarterfinals of the Shillong Sports Association's Third Division by winning their last Group B matches at Polo Ground here today.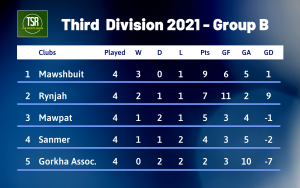 Mawshbuit defeated Sanmer 2-0 to retain top spot in the table following the final round. They scored two second half goals through Dilon K Chettri (50′) and Rabindra K Thapa (62′) to book their place in the last eight.
Earlier, Rynjah smashed passed Gorkha Association 6-1, with Oshalson Nongbri netting his second hat-trick of the season with goals in the 12th, 30th, 68th and 70th minutes. He has now scored seven goals in all and his last was the 75th of the Third Division season. Rangehbok Lynkhoi (11′) and Heskenroi Kharsati (13′) were the other scorers as Rynjah ran riot. Gorkha Association managed a consolation goal via Kamal (55′).
This was the second time that Rynjah had won this year by five-goal margins after trouncing Mawshbuit by the same margin.
Rynjah, however, went on to lose to Sanmer and draw with Mawpat and thus finished with seven points. Mawshbuit, on the other hand, won three games on the trot to top Group B with nine points.
Tomorrow's fixtures:
Group C – Umlyngka vs Sohryngkham, 12PM
Group C – Laitlyngkot vs Umpling, 2:15PM