Shillong, Dec 20: Purav Agarwal claimed his second consecutive seven-wicket haul on the first day of the Meghalaya versus Nagaland U-19 Cooch Behar Trophy Plate Group match in Bhubaneshwar today.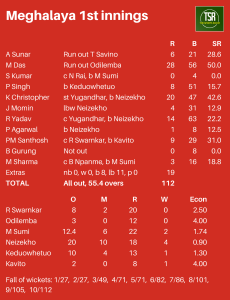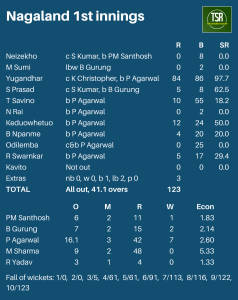 Twenty wickets fell today, with Meghalaya dismissed, after winning the toss and choosing to bat first, for 112, to which Nagaland responded with 123, giving them a lead of 11 runs.
Mrinal Das top-scored for Meghalaya with 28, while captain Kevin Christopher (20) and Rohit Yadav (14) were the only other batters to get into double figures as the team were all out for 112 in 55.4 overs.
Nagaland started shakily themselves, losing both openers for no runs on the board but they were saved by Yugandhar, who single-handedly made 84 off just 86 deliveries before he became one of Agarwal's scalps.
The Meghalaya bowler ended with figures of 7/42, while Bharat Gurung (2/15) and PM Santhosh (1/11) were the other wicket takers. Agarwal had previously taken 7/56 against Mizoram in the previous match.
(Meghalaya Cricket Association photo)