Shillong, Dec 22: Meghalaya routed Nagaland by 103 runs with one day to spare in the U-19 Cooch Behar Trophy in Bhubaneshwar today thanks to another five-wicket haul by Purav Agarwal.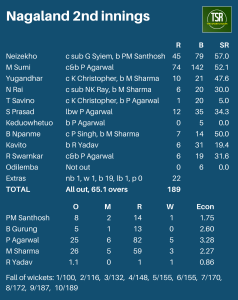 Nagaland began their second innings today morning needing 293 to win. To recap, Meghalaya had made 112 in their first innings, to which Nagaland had responded with 123. Yesterday, Meghalaya put up 303 on the board to set Nagaland a difficult target.
Nagaland, however, were up for the challenge, at least as far as their opening batters were concerned. The duo could not have made a better start for their team as they put on exactly 100 for the first wicket, going at almost four runs an over.
The partnership, which threatened to take the game away from Meghalaya, was finally broken when substitute Ganeshstar Syiem took a catch off the bowling of PM Santhosh (1/14). Mughavi Sumi, who hit 74, was later removed by Agarwal, who had another terrific innings with the ball, taking 5/82 for match figures of 12/124. The other wicket-takers were Manish Sharma (3/59), who dismissed the top scorer from Nagaland's first innings for just 10, and Rohit Yadav (1/1) as Nagaland crashed to 189 all out.
Victory has taken Meghalaya to third in the Plate Group, one place ahead of Nagaland, and they will play their final match against group leaders Arunachal Pradesh from 27th December.
(Meghalaya Cricket Association photo)