Shillong, Feb 27: Umphrup SC (featured photo) blanked Umphyrnai Nongdalum 2-0 in a first round match of the 1st Shortimai Knockout Football Tournament, organised by the Seng Samla Smit Pyllun and Smit SC yesterday.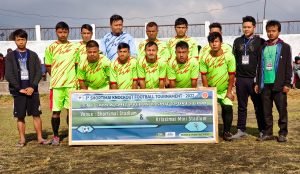 The evenly-contested match saw the deadlock broken by Bankitboklang Nongrum in the 31st minute.
His team mate Nangseiboklang Lyngdoh Nongbri then doubled the lead in the 55th minute, according to the tournament's Organising Secretary, Syntem Kamwamut Nengnong.
There will be two matches on 2nd March – Umphyrnai SC versus Smit United at 11AM followed by Laitkyrhong vs Nongkynrih at 2PM.
(Photos contributed)