Shillong, Feb 17: Meghalaya's first day of elite level Ranji Trophy cricket was a trial by fire as they were bowled out by Kerala for 148, following which their opponents managed 205/1 at stumps.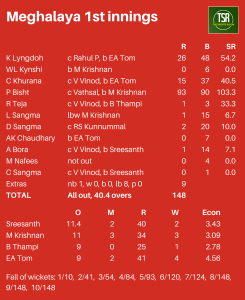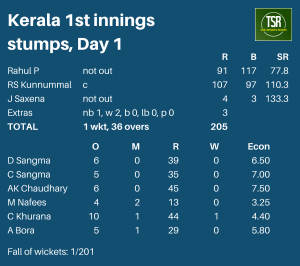 Kerala won the toss and chose to bowl first in Rajkot today in Elite Group A, Meghalaya first chance of playing against top domestic opposition.
Kishan Lyngdoh made a good start, scoring 26, with three fours behind point, on his first-class debut but he was the only one of the Meghalaya domicile batters who managed to get into double figures.
For the bulk of the runs, guest professional and captain Punit Bisht had to be relied on by Meghalaya. He carved out 93 (19 fours) off just 90 deliveries, with the tail-enders trying to make sure that he had as much of the strike as possible.
Bisht was the eighth wicket to fall and Meghalaya were unable to add to the total following his dismissal, ending their first innings on 148.
This match was also significant in that it featured the return of former Indian national team bowler S Sreesanth, who claimed two wickets in his comeback match after nine years away from domestic cricket.
In their first innings Kerala's openers had little in the way of difficulty and scored prodigiously against the pacers. Md Nafees Siddique pegged the opposition back a little, conceding just 13 runs in four overs but it was guest professional Chirag Khurana who broke the mammoth 201-run opening partnership by dismissing Kerala centurion Rohan Kunnummal for 107 just before stumps.
Kerala ended the day by adding four more runs to finish on 205/1, leading by 57 runs.