Shillong Lajong are going to start their I-League campaign this weekend and I have an idea of what the first XI should be.
It may look a little surprising but I have my reasons for the selections I have made.
The system will be a 4-3-3 with Neithovilie Chalieu in goal and Aiban Dohling, Kenstar Kharshong, Rakesh Pradhan and Kynsailang Khongsit as the back four.
Novin Gurung will play in front of the defence, flanked by Hardycliff Nongbri and Phrangki Buam. The front three will be Sheen Sohktung and Samuel Lalmuanpuia on either side providing support for Parvaj Bhuiya.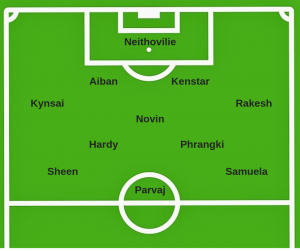 The obvious issues will be raised by playing Novin as the holding midfielder, Phrangki instead of Lalrohlua (who is more experienced) and Bhuiya charged with leading the line.
My argument is that Lalrohlua is not a holding midfielder and is more of a passer. With his frame he does not win physical duels, while Novin, having played in defence, can be more tenacious. I remember his tackle on Chencho Gyeltshen when Minerva Punjab came to Shillong last year. It was a very strong tackle and sent a message to the attacker. You need someone like that in front of the back four to win the balls and stop the attacks, which Lalrohlua cannot do.
Lalrohlua, however, will play instead of Phrangki in away matches where the weather and need to remain organised means that you will need someone to control the game. In home matches I want to go for the kill and Phrangki is a better player for that.
Bhuiya will lead the attack because he can occupy the defenders and be a nuisance to them with his antics. Of course he will get fouled and smacked a few times but that will only earn free-kicks for the team, which is going to be one the ways Lajong could get their goals.
Of course how the team changes from match to match depends on the performance of the players. A victory in the first game is a must. It is a derby and you can lose to other teams but not to neighbours.
Less than a win will be a disappointing result, especially it being a home game. So, all the best to Lajong and I hope for a great start to the I-League season.
(TSR photo)