Shillong, Feb 20: Madan Iingsyiem Mylliem (pictured above) and Eastern Pirates won their respective matches on the second day of the 1st Shortimai Knockout Football Tournament, organised by the Seng Samla Smit Pyllun and Smit SC yesterday.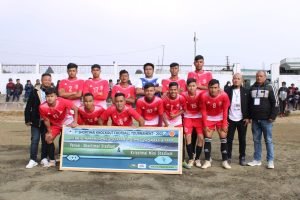 Madan Iingsyiem Mylliem came from 2-0 down to win 3-2 against Mawmluh Seng Samla, who took the two-goal lead through Banteinam Kurbah (19′, 25′). However, Wanpynshngain Nongsteng (44'P), Ores Buam (56′) and Chanmitre Thma (61′) got Madan Iingsyiem Mylliem back into the contest and through to the next round.
The day's second match then saw Eastern Pirates hold off Nonghulew SC for a 2-1 victory.
C Nongdhar (11′) scored via a free-kick and Max Austin Wanswett doubled the lead for the Pirates 10 minutes later. Deep into the second half, Nonghulew clawed a goal back through Rimi Khongiong in the 67th minute but they were unable to find an equaliser and bowed out of the tournament.
The next matches will be on Tuesday – Mawlai Mawroh vs Real Mythic at 11AM and 7 Brothers vs Thunder Bolt Laitlyngkot at 2PM. Matches will only take place on Saturdays and local market days.
(Photos contributed)