Shillong, Oct 23: The Meghalaya Football Association has summoned 42 players from six Shillong-based clubs for trials to pick a state team for the Santosh Trophy North East zonals, which are scheduled to be held in Shillong from next month.
According to a notification from the MFA (seen by TSR), the trials will be held on 25th October from 8AM at the JN Stadium, Polo Ground.
Failure to report will elicit penalties for the players and their respective football clubs, the MFA warned.
Amusingly, the names of many of the players are muddled. For example, the list includes the name of "Pynkrawnam Nonglhlaw" from Ryntih (which must be Banpynkhrawnam Nongkhlaw).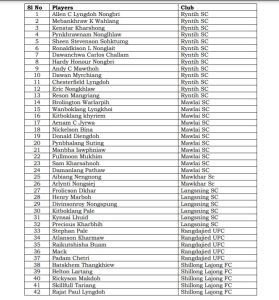 There is also a listing for "Hardy Honour Nongbri", which seems to combine the names of Hardy Cliff Nongbri and Honour Lucky Nongbri. And then there's the call-up for "Mack" from Rangdajied United – TSR trusts that the clubs know who the MFA is talking about.