Shillong, Feb 20: There are just four group stage matches of the Shillong Sports Association's Second Division remaining and three of them, at least, will be exciting affairs. 
Here are the points tables from the Second Division as we go into the final week of the group stage.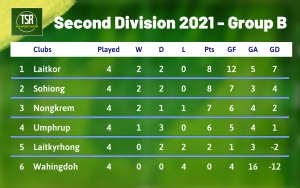 Group A is pretty much wrapped up with Mylliem and Marbisu progressing to the semifinals. Mylliem have head-to-head advantage over Marbisu having won their meeting 1-0. Mawryngkneng are sure to finish in bottom spot no matter the result in their postponed fixture against Jongksha, which will be held on Thursday.
Group B is still wide open and all three remaining matches will be crucial for the teams involved. Currently Laitkor lead Sohiong in the standings on goal difference as their match ended 2-2.
On Monday Umphrup will meet Sohiong. Umphrup will need to win while Sohiong only need a draw to ensure a top two place. Tuesday will see Nongkrem and Laitkor face off. Here again Laitkor will only require a draw but Nongkrem have to take all 3 points.
Even Wednesday's game between Laitkyrhong and Wahingdoh will also, likely, be an interesting 90 minutes. Laitkyrhong have bagged two points from two draws but Wahingdoh will hope to be able to find a victory after four defeats to avoid finishing in bottom position.
This week's group fixtures (all at Third Ground, Polo; kick-off at 2:45PM):
Monday – Group B – Umphrup vs Sohiong
Tuesday – Group B – Nongkrem vs Laitkor
Wednesday – Group B – Wahingdoh vs Laitkyrhong
Thursday – Group A – Mawryngkneng vs Jongksha
(TSR file photo)