Shillong, Mar 2: Laitkyrhong (featured photo) and Umphyrnai (pictured below) won their respective first round matches of the 1st Shortimai Knockout Football Tournament, organised by the Seng Samla Smit Pyllun and Smit SC today.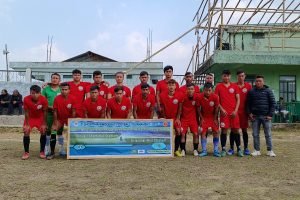 The second fixture saw Laitkyrhong SC, which featured ex-India international Aiborlang Khongjee, beat Nongkynrih SC 3-1. Iohbor Nonglyer found the opener in the 25th minute for Laitkyrhong, with Poibiang Pohshna doubled the lead five minutes later.
Nongkynrih fought hard, though, and clawed a goal back but Laitkyrhong netted a third goal to take the match 3-1.
Earlier, Umphyrnai SC dominated Smit United FC 3-0 with goals from Rudolf Shadap (9′, 46′) and Damang Kharbyngar (65′).
There will be one match on Thursday between Khliehmawlieh of Nongstoin and 7 Trep of Ri-Bhoi at 2PM, informed Syntem Kamwamut Nengnong, the tournament's Organising Secretary.
(Photos contributed)