Shillong, Mar 31: Paraladei Smit and Lamare FC won their respective quarterfinal matches and are through to the last-four of the 1st Shortimai Knockout Football Tournament, organised by the Seng Samla Smit Pyllun and Smit SC, today.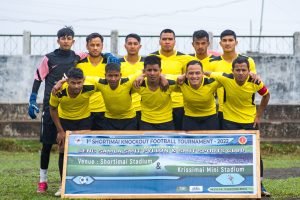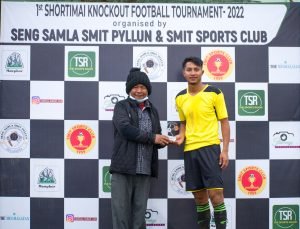 Paraladei Smit came through in their morning match against Laitkyrhong SC 3-0 with goals from Wanlamsuk Nongkhlaw (22′) and Figo Syndai (62′, 80′).
Syndai was named man-of-the-match and received his award from the Rangbah Shnong of Lemthaw Smit.
In the second quarterfinal Lamare edged Galaxy Pynursla 1-0 in a close fight. Brolington Warlarpih score the only goal in the 21st minute.
The man-of-the-match award went to Donborlang Nongkynrih (featured photo) of Lamare FC and was presented by the Secretary Shnong of Lemthaw Smit.
The third and fourth quarterfinals will be played on 4th April between Youngstar FC and Real Mythics at 11AM and then between Umphrup SC and Khliehmawlieh Nongstoin at 2PM, informed the tournament's Organising Secretary, Syntem Kamwamut Nengnong.
(Photos contributed)