Shillong, Apr 20: The Railway Sports Promotion Board (RSPB) women, following in the footsteps of Haryana, made their unceremonious exit in the quarterfinals of the 83rd Senior National and Inter-State Table Tennis Championships at the SAI Indoor Stadium here today.
But was more shocking was the elimination of runners-up Delhi and bronze medallist Telangana in the men's team events, paving the way for RSPB and Maharashtra A to enter the medal rounds. Maharashtra A's first thrashed Delhi 3-0, and the Railmen steamrolled Telangana 3-2 in a thrilling quarterfinal.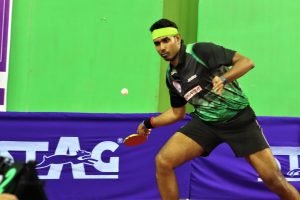 Both the men's and women's Petroleum teams entered the finals, beating the Railways and Bengal A, respectively, with similar verdicts of 3-0. In the other two semifinals, Maharashtra A women defeated Tamil Nadu Table Tennis Association 3-0 and their men beat Bengal A 3-2 in what turned out to be an edge-of-the-seat encounter.
The women's team finals tomorrow will be held at 2:30pm, followed by the men's team finals at 4pm, with the medal ceremony for both to take place at 5pm. Preceding this, will be the start of the mixed doubles from 9am and women's singles from 11:30am.
Diya Chitale, Swastika Ghosh and Anannya Basak led their team into the final, as did Petroleum Sports Promotion Board (PSPB), downing runners-up Bengal A with an identical margin.
However, Diya Chitale's best form and the spirited fightback alone put Maharashtra into the semifinal. Trailing 0-2 in the crucial fourth rubber against Sutirtha Mukherjee – Railways led 2-1 – Diya launched herself to play some excellent game, shifting the pressure back on Sutirtha and her team. She not only levelled the score in the tie but went on to restore parity in the team score. Then it was left to Swastika to provide them with the impetus to see them through in the decider.
As for the semifinal, it was a cakewalk for the team as TNTTA failed to repeat their quarterfinal performance against TTTA.
Strengthened by the return of Manika Batra, PSPB ran through Bengal A quickly. Kaushani Nath of Bengal, however, put up a good fight and forced Manika on the back foot for the first time. In the end, it did not matter as Manika won the second rubber after Archana had put PSPB 1-0 up. The third rubber was a formality as Reeth Rishya outsmarted Moumita Dutta, winning in straight games.
In the men's quarterfinals, Delhi wilted under the weight of Deepit R Patil, Siddhesh Pandey and Jash Modi. The last-named played brilliantly against Yashansh Malik to make it 3-0 for Maharashtra. In the second rubber, Siddhesh never allowed any liberty to Payas Jain, who has not only improved his world rankings in U-19 Boys but has quite a few international medals to his credit. But it was Deepit's hard-fought win against Sudhanshu Grover that gave their team the initial push.
(Meghalaya Table Tennis Association photos. The featured photo is of a Maharashtra player)