Shillong, May 1: Lady Keane College of Shillong bagged the inaugural Khasi Hills Challenge 1.0 championship, beating rivals Shillong Momo Flavours and Annie Margaret Barr Children's Village in the corporate event of the maiden wooden kart race held at Kharang, East Khasi Hills, on Saturday.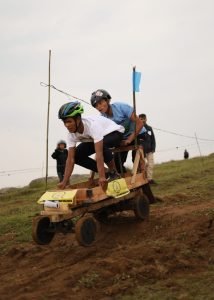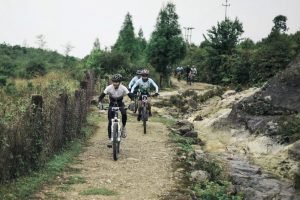 Organised by the Kharang Sports and Social Welfare Club to celebrate Meghalaya's 50th year of statehood and the club's 50th anniversary, the 'bol bearing race' was the first of its kind in the country to promote local indigenous sports and was supported by the Directorate of Sports & Youth Affairs.
Apkyrmen and Prishon were at the wheels for the winning team, clocking 4.33 minutes and were closely followed by the Shillong Momo team (5.1 minutes) and the AMB Children's Village team (5.4 minutes) respectively on an off-road track that was 600m long, according to the organisers.
Tata Frank Motors team clocked 5.51 minutes and AMB School team clocked 5.56 minutes and were placed in fourth and fifth positions followed by Shillong Press Club team (5.59 minutes) and Frank Yamaha team, they said.
In the men's open category, Arbokstar and Bikres won first prize and took home Rs 20,000, completing the track run in a record 4.26 minutes while Phroidamon and Badapmon bagged first place in the women's open category.
In the mountain bike cross country challenge, Shillong Press Club's Kevin John Khyllait won first prize (1.52 hour) to complete the 26km trail while Gilbertson Wahlang (1.55 hour) of South West Khasi Hills and Pynshngain Lyngkhoi (1.57 hour) bagged second and third respectively.
Khyllait, hailing from Longki Ingding of Eastern West Khasi Hills, was sponsored by the Shillong Press Club for his races this year.
The 'bol bearing race' was also organised to promote the use of sustainable and environment friendly indigenous sports and in all over 50 enthusiastic participants took part, Banjop Mukhim, the club's adviser and spokesperson said in a statement issued here.
Indigenously designed wooden karts are found across the length and breadth of Khasi-Jaintia Hills and these wooden karts have been the environment-friendly workhorse of the people since time immemorial, he said, adding that organising such an event is to promote the use of eco-friendly and fun karts among the youths.
Earlier, Sports & Youth Affairs Minister Banteidor Lyngdoh, who flagged off the kart race, appreciated the club and its initiatives and pledged government support for the next edition.
Kharang village Sordar Langbor Nongpluh flagged off the MTB event and over 30 participants including five women registered for the maiden race.
According to the club, the trail for the MTB XCO event was designed with a lot of technical spots and riders had to be extremely cautious.
"It is one of the best in India and even better than the recently concluded MTB national event held at Pune," Kevin, who also represented the state at the event, said. 
(Photos: Kharang Sports and Social Welfare Club/Banbit K Kharnaior)