Shillong, Aug 27: The Meghalaya Gymnastics Association won three medals at the recent Invitational Gymnastics Championship in Imphal.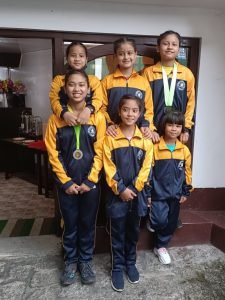 The young participants were felicitated at Alelang Hall here today.
Josephine Isabel Warjri (U-17) bagged a silver in the vault while Bakmenhun Shangpliang (U-12) claimed two bronze medals in balance beam and floor exercise. The other participants representing the state were Sa-i-bakor K Tariang, Athilia Susngi, Wansaphi Bernadette Malngiang and Wansuk Mery Susngi
The two-day event took place on 19th and 20th August and was organised by the Manipur Gymnastics Parents Associations.
This is the first time since the MGA was formed in 1997 that its gymnasts won laurels outside the state. It is also the first time that former gymnast, and MGA General Secretary, Lucy Mary Malngiang was selected to be a judge in women's artistic gymnastics and aerobic gymnastics. It's thanks to Lucy Malngiang and other dedicated members of the MGA that gymnastics has gone from next to nowhere to a sport that is giving Meghalaya something to be proud of.
The chief guest at the felicitation was Meghalaya State Olympic Association Vice-President Sebastian Swett. Also present were MGA Working President JR Marak, Vice-President Ezra Malngiang, Joint Secretary Rida Lyndem, other association members, parents and supporters of the gymnasts.
"All our gymnasts showed tremendous courage and performed very well despite the lack of a dedicated gymnastics hall, gymnastics apparatus, proper training and a SAI coach," Lucy Malngiang said. "The association needs support from the government to set up a dedicated gymnastics hall and a coach, so that we can prepare and produce world-class gymnasts who already have the body structure, flexibility and agility needed for gymnastics and who can excel in national and international competitions."
(Meghalaya Gymnastics Association photos)