Shillong, May 4: Cycling made its debut at the 4th Meghalaya Games 2022 in the picturesque setting of Malki Forest today.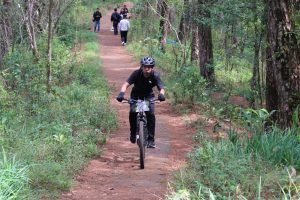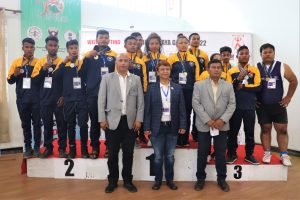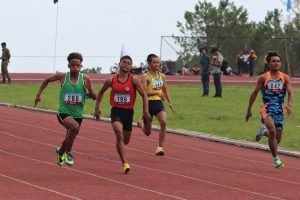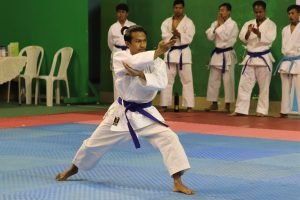 A pleasant trek to the venue surrounds you with birdcall as the sunlight filters through the trees. The paths were steep and slightly slippery with the rain of recent days. This all made it extremely challenging but the course has been crafted to keep things interesting and test the riders, who had to push themselves and their machines to the limit.
The Meghalaya Cycling Association has been one of the most active of new sports bodies in the state and has taken up the responsibility of popularising the sport and advocating for the interests of cyclists in general.
Events today were for junior boys and women's cross country along with downhill hardtail, which means bicycles without rear suspension. More exciting cycling action will be witnessed tomorrow.
Below Malki Forest could be found the swimming events at Crinoline Swimming Pool. The morning was blessed with wonderful warm sunshine and three finals were concluded today, with Alyzza M Lyngdoh (featured photo) of East Khasi Hills storming to victory in the women's 100m freestyle in a time of 1 minute, 29.35 seconds, nearly half a minute ahead of the silver medallist. The Pine Mount School student and Mawprem resident, who is sitting her ICSE board exams, swam a race in the morning, went to school and then returned in the afternoon to win her gold medal. Kudos to her!
Khrawkupar Lyngdoh of South West Khasi Hills took first place in the men's 200m breaststroke (3:20.87) and he won the men's 200m freestyle final as well (2:48.41).
Athletics began today and several results in javelin were declared, with Bonabenshor Syiemlieh taking gold for West Khasi Hills in the U-16 boys' event with a throw of 40.32 metres. East Garo Hills claimed both silver and bronze, through Nokkim Momin and Salchira R Sangma respectively.
It was a Garo Hills lockout in the U-18 girls' javelin, with North Garo Hills taking gold and silver through Senitha G Momin (24.57m) and Silanchi M Sangma respectively, while Walrimchi R Marak bagged bronze for South Garo Hills.
In the women's 10,000m, Kyntimon Marwein of South West Khasi Hills took gold with a time of 41 minutes, 59.64 seconds. She beat out Darishisha Iangjuh (East Khasi Hills) and Bandasharai Marwein (SWKH).
The corresponding men's event was won by Hepstarli Lyngkhoi (SWKH) in 33:06.62, ahead of Kresstarjune Pathaw (WKH) and Belin Dkhar (West Jaintia Hills).
Weightlifting, which was making its debut at the Games, saw seven gold medals handed out – Ibanrihun Maring (55kg women), Ibalaiohkhamtilut Nawsaw (64kg women), Banteilang Marwein (55kg men), Maxcarelius Ryndongsngi (61kg men), Anas Ryndongsngi (67kg men), Edilbert Ryndongsngi (90kg men) and Donald Rymbai (110kg men).
In tennis, rain meant some unavoidable disruption on the clay court surface at Shillong Club, though play was able to resume in the evening under lights.
The singles – for U-16 boys and senior men – are played according to a first-to-9-games format, while men's doubles is according to the standard best of three sets format.
In the U-16 boys' quarterfinals, Harsh Singhania beat Amit Ram in a tiebreaker 9-8, while Enrick Suchiang defeat Ryan Kharkongor 9-0. Ishan Rawat and Rakshit Bajaj won via walkovers. In the men's singles, Sanjeev Chettri beat Enrick Suchiang 9-2, Macdonald Thabah won 9-4 against Feniedee Rymmai, Keane Marbaniang won 9-5 against Ishan Rawat and Joplut Kharbuli won 9-6 over Wankhraw W Nongrum.
In basketball, West Khasi Hills will meet East Khasi Hills in the women's final at 3PM tomorrow at the NEIGRIHMS Indoor Stadium, while Ri-Bhoi will take on EKH in the men's title match at 4:30PM.
Ri-Bhoi knocked out 2020 champions West Khasi Hills in the first men's semifinal 53-33. EKH men then defeated West Jaintia Hills 71-45, while, earlier, the EKH women were 70-12 victors over WJH women. The other women's semifinal saw defending champions WKH defeat Ri-Bhoi by 63 points to 22.
Finally, in football, EKH blazed past South West Garo Hills 8-0 in their women's quarterfinal at Mawlai Madan Heh. WKH defeated Ri-Bhoi 2-0 and West Garo Hills pipped Eastern West Khasi Hills 1-0.
In the men's competition, at SAI, Ri-Bhoi registered a 5-1 win over SWKH, while WJH defeated East Garo Hills 3-0. East Jaintia Hills then required a penalty shootout (5-4) to beat North Garo Hills after full time ended 1-1.
Other events that began today were karate and table tennis at the SAI Indoor Training Centre. It was also announced that multiple World Cup, Asian Championships and World Championships archer, Atanu Das, will be present for the final day of the archery events at SAI tomorrow.
(Meghalaya State Olympic Association photos)