Shillong, May 19: Sein Jait Tuber Higher Secondary School were crowned overall champions at the District Level Inter School Athletics Meet in Khliehriat, East Jaintia Hills, today.
The three-day meet, organised by the office of the District Sports Officer, Stephanie M Rapsang, concluded today. Twenty-three schools took part.
Sein Jait Tuber HSS (featured photo) won 22 gold medals and three of its students won Best Athlete awards – Da-ei-Hiwotmi Phawa (U-14 boys), Lamwan Phawa (U-18 boys) and Anidaka Shwa Shylla (U-18 girls).
The other winners were Thehlut Sana of Sein Raij BR Upper Primary School (U-14 girls), Lastly Suchiang of Sutnga Presbyterian HSS (U-16 boys) and Lamsuk Phawa of San Shnong Secondary School (U-16 girls).
San Shnong SS (pictured below) was named Best Disciplined Team.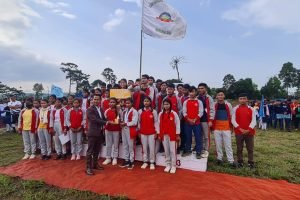 Cabinet minister and local MLA Kyrmen Shylla was the chief guest and local MDC Finelyness Bareh was the guest of honour. Other dignitaries present were the district Superintendent of Police Jagpal Singh Dhanoa, Principal of Jaintia Eastern College and DSO of West Jaintia Hills.
(Photos contributed)