Shillong, May 21: Lawei booked the last remaining spot in the semifinals of the Shillong Sports Association's Women's League with a 2-0 win over Nongkohlew in Group B at Third Ground, Polo, here today.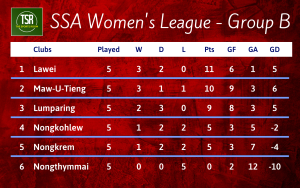 As a result, Lawei went to the top of the group and dropped Maw-U-Tieng into second place. Maw-U-Tieng had already secured their place in the knockouts earlier in the week.
In today's second fixture, Lumparing won what proved to be an inconsequential match 3-0 against Nongkrem thanks to a hat-trick by China Sangma (45′, 53′, 55′). Her last strike was the 100th goal scored in the maiden season of the Women's League.
Lawei's goals, meanwhile, were provided through Bankyntiew Ryntathiang (3′) and Pyniabiang Nongbet (49′).
The semifinals will be held on Tuesday. In the first, at 12:30PM, Group A toppers Mawlai will take on Maw-U-Tieng. Later, at 3:30PM, Lawei will face Group A runners-up Laitkor.
The final will take place on 27th May.