Shillong, Jul 11: Ten-man Shillong Lajong FC bagged their first win with a 2-1 result against Mawkhar SC in the 17th match of the OC Blue Shillong Premier League 2021-22 at Third Ground, Polo, here today.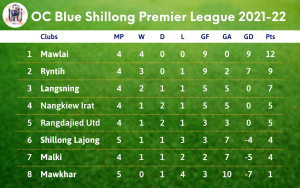 Before today, the two sides each had 1 point from four matches, with Lajong marginally better than Mawkhar on goal difference (-5 to -6).
Wadajied Ryngkhlem (28') and Aman Ahlawat (34') scored for Lajong. Balajied Syiemlieh (90'+7) converted a penalty right at the end for Mawkhar.
With victory, SLFC moved out of the relegation zone. They are now tied with Malki SC on 4 points but have a better goal difference (-4 to -5). Malki, though, have a game in hand.
Lajong started the stronger today with a radically changed line-up but were hampered when Samuel Vanlalpeka, one of several players new to the starting XI, was shown a yellow card after a coming-together with Mawkhar goalkeeper Widenstar Kharsati.
At risk of going a man down so soon in to the match, Vanlalpeka was taken off in place of Amon Lepcha but, soon after, team mate Iohbor Lyngkhoi also went into the book and things got a lot worse in the 37th minute when Ahlawat was shown a direct red card after knocking over a Mawkhar player on the edge of the box.
In what was a very exciting first half, Lajong's Sangti Janai Shianglong pulled off what was arguably the shot of the match in the 21st minute after negotiating a high bounce to crack a left-footer that clipped the upright.
The first goal came about after Ioanis Suchen went deep on the right flank and put the ball into the box. Ryngkhlem fired from the far post from a very tight angle and, somehow, the ball snuck through Kharsati's gloves and went into the back of the net.
A few minutes later, Lepcha earned a corner for Lajong and it was taken by Gladdy Kharbuli. His delivery beat Kharsati and came off Ahlawat's body before crossing the line, making this a day the Mawkhar goalie would probably rather forget.
Lajong custodian Wanteilang Malngiang, making his first start of the OC Blue SPL season, did not look completely at ease but the crucial difference was that his efforts did manage to prevent Mawkhar from scoring.
He just about managed to deny a strong attempt by Bansanbha Khongsdam in the 41st minute as Mawkhar tried to make their advantage in numbers count.
Bansanbha was at the centre of most of Mawkhar's chances in the second half as well, as he struck the crossbar in the 48th minute before sending in a swirling kick that Malngiang managed to get behind well.
Lajong, for their part, did not want to rest on their laurels and kept looking for a third goal but were denied as Kharsati upped his game.
The best chance for Mawkhar came in the 85th minute when Bansanbha was denied by Malngiang again. This time the keeper could not hold on to the ball and it bounced around threateningly between players before Mawkhar blazed it over the crossbar.
Finally, just when it seemed as though Lajong would finish with a clean sheet, a penalty was awarded against them after an infraction in the box and Balajied Syiemlieh coolly scored from the spot. This proved to be the very last action of the game as the referee blew the final whistle straight after.
Tomorrow, it will be sister clubs Nangkiew Irat SC and Rangdajied United FC going up against each other.
Tomorrow's fixture:
Nangkiew Irat vs Rangdajied United, 4PM
(TSR photo)