Shillong, Aug 5: Ryntih defeated Mawkhar 2-0 in the 31st match of the OC Blue Shillong Premier League 2021-22 with a goal on either side of half time at Third Ground, Polo, here today.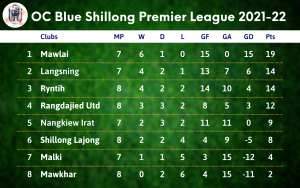 Dawanplielad Myrchiang (29') and Mebankhraw Wahlang (80') were the scorers. These were the first goals for either player this season.
Ryntih had won the previous meeting between these two sides 3-1 on 30th June.
Coming into today's match, Ryntih had 11 points and bottom side Mawkhar 2. Now with 14 points, Ryntih have displaced Rangdajied United and climbed to third, tied with Langsning FC on points and head-to-head but behind on goal difference (+6 to +4).
Mawkhar crafted plenty of chances in either half but their finishing was lacking and they failed to convert, with Justerwell Tham having the bulk of these opportunities, with his 17th minute shot denied by the woodwork.
Defensive mistakes on their part opened up chances for Ryntih, who took advantage of a corner gifted to them when a Mawkhar defender miscued a header that he meant to go to his goalkeeper, Banshanskhem Kharsyntiew.
The corner kick was aimed at the near post but sailed past everybody until it got to Myrchiang at the far post who had the presence of mind to tuck it into the net.
The game then erupted early in the second half when Mawkhar's appeal for a penalty in the box was waved away by the referee. Some strong words were let loose, leading to a red card (only the fourth all season) for Garnoldstar Marbaniang. Two of his Mawkhar team mates also received yellows.
Ryntih failed to make use of their man advantage, that is until Wahlang rose above his marker to head in a corner with 10 minutes left on the clock.
Tomorrow, Malki SC (4 points) will take on Langsning FC (14 points). Langsning had walloped Malki 4-0 in the first leg.
Tomorrow's fixture:
Malki vs Langsning, 4PM
(TSR file photo)