Shillong, Sep 16: Kitboklang Pale scored a hat-trick as Langsning FC defeated Ryntih SC 5-2 in a scintillating 51st match of the OC Blue Shillong Premier League 2021-22 season at Third Ground, Polo, here today.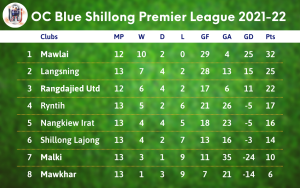 Pale scored in the 5th, 22nd and 85th minutes, the last via a penalty. Kevinson Rymbai (45') and Roikhihbha Nongtdu (90'+2) were the other scorers for Langsning, while Mebankhraw Wahlang (34', 79'P) scored twice for Ryntih.
Coming into today's fixture, Langsning had 22 points to Ryntih's 17. The first leg meeting between the two teams ended 1-1 on 21st July.
Pale got his first goal after being on the receiving end of a cross and his resulting shot clipped the upright before crossing the line. His second goal was a peach, delivered from the edge of the box with his favoured left foot.
In the second half, he had two penalty kicks, the first (following a foul on Arnesius Marwein), in the 81st minute, was punched away by Ryntih goalkeeper Eric Nongkhlaw, who guessed correctly and dived to his left.
The second came after Pale sublimely weaved his way past two defenders and into the box only to have Pynshongdor Shadap foul him. Stepping up once again, Pale converted this time and thus became only the second player to record a hat-trick in this season of the OC Blue SPL, after Mawlai SC's Manbha Iawphniaw.
With only 12 players available to them, Ryntih's starting XI had to play the whole match without any substitutions. Despite being on the back foot from the beginning, they found two goals via Wahlang. His first was earned after he headed in a Sheen Sohktung cross and the second was also through a penalty, which came about after Sohktung was fouled by Langsning keeper Surjay Kumar Pariyar in the box.
On the cusp of half time, Langsning's Batiphar Swer and Rymbai engaged in a neat one-two, with the latter taking the final shot that went high to the right of Nongkhlaw and nestled into the corner of the net.
The final goal of the game came in second half stoppage time, with substitute Nongtdu taking a shot from the left as Langsning tried to get as many goals as they could from the contest.
The win is important for the two-time champions insofar as their fight with Rangdajied United FC for second place goes. Rangdajied (22 points) are still to face Ryntih in the second leg. Tomorrow, Rangdajied will take on leaders Mawlai SC (32). Mawlai had beaten Rangdajied 1-0 in the reverse fixture on 25th July.
Tomorrow's fixture:
Rangdajied United vs Mawlai, 3:15PM
(TSR photo)