Shillong, Oct 3: A BCCI-funded indoor training facility should be up and running in Shillong by the middle of 2024.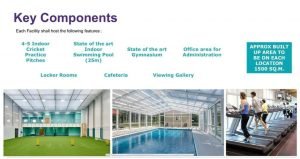 According to a report in Sportstar yesterday, the five indoor training facilities in other North East states – Sikkim, Manipur, Nagaland, Mizoram and Arunachal Pradesh – will be ready by 1st January 2024.
However, there is an issue with the land chosen for the Shillong facility, so a new plot (the original site was meant to be behind the Meghalaya Cricket Association Ground in Polo) has to be approved before construction goes ahead. This means that the Shillong centre will be ready six months after the others, ie in mid-2024.
This and other matters were discussed at an informal meeting between BCCI Secretary Jay Shah, Assam Chief Minister Himanta Biswa Sarma and representatives of the affiliated state associations from the North East in Guwahati on Saturday. MCA Honorary Secretary Gideon Kharkongor and Honorary Treasurer Dhrubajyoti Thakuria were present.
The foundation stone for the Shillong training centre had been unveiled by Sourav Ganguly, then BCCI technical committee Chairman but now the governing body's President, in 2018. Progress on it, and the other states' centres, was hamstrung by the Covid-19 pandemic as well.
Although several new practice nets have been set up by the MCA in Shillong and throughout Meghalaya in recent years, an indoor facility would be a great boon to cricketers in one of the wettest places in the world. The plans for all six centres are the same – four or five practice pitches, a state-of-the-art swimming pool, gymnasium, office area, etc over a built-up area of around 1,500 square metres.