Shillong, Jun 22: Just days after it was used to host a semifinal fixture of the Meghalaya State League 2023, a retaining wall collapsed at the PA Sangma Stadium in Tura today morning, carrying a small section of the football pitch with it.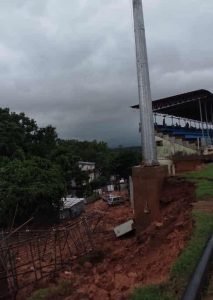 It was only in December that the stadium was inaugurated, though work on the wider sports complex continues.
Six months later and a few days of sustained rainfall has been enough to, apparently, cause the wall to fail. What makes it more embarrassing is that the stadium is named after none other than the current Chief Minister's late father, who was himself a Meghalaya CM, Member of Parliament and Speaker of the Lok Sabha.
The reasons for the collapse of part of the retaining wall are being inquired into, with the West Garo Hills Deputy Commissioner having launched an official investigation, a press release from the Department of Sports and Youth Affairs said, though the "initial cause" was given as the heavy rain Tura has been facing. "Additionally, an engineering team from the State Sports Council of Meghalaya is already at the site with the contractors conducting a technical investigation. All debris is being cleared at present and immediate repair works will commence."
The design was done by "nationally acclaimed" design agencies taking into consideration all the requirements for hosting national and international matches and executed by Hindustan Steelworks Construction Ltd.
"The implementation has been carried out incorporating best practices in design, construction supervision, and project management, addressing every requirement of transparency and accountability," the release claimed. "Further, all technical drawings of the complex, including the retaining wall, have been vetted and verified by experts from reputed national institutions."
The facility was already at the centre of a row during campaigning for this year's state Assembly election, with other political parties attacking the ruling National People's Party for inaugurating the stadium even though the rest of the complex was incomplete. The Bharatiya Janata Party was also rubbed up the wrong way after no one from the central government was invited for the opening despite funding being provided by the Centre.
At the time of the inauguration, the state government said that the facility is the country's largest pre-engineered composite football stadium and has a capacity for 9,500 spectators. The indoor stadiums with gymnasium, swimming pool, table tennis hall, squash courts and badminton courts will be inaugurated by December this year, the government said at the time.
Other facilities at the sports complex are in varying stages of completion. The whole complex takes up 17,000 square metres and is being built at a cost of Rs 127.7 crore.
(Photos: Facebook/Silsrang G Momin/Silrak Ch Momin)