Shillong, Jul 18: Kick Start Football Coaching Centre and Synroplang 77 won their respective season-enders in the Shillong Sports Association's Women's League 2023 at Third Ground, Polo, here today.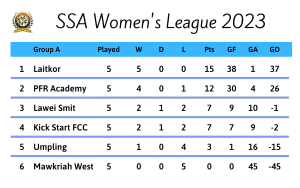 While Kick Start defeated Mawkriah West SC 6-0 in Group A, Synroplang beat Kharang SC 5-0 in Group B.
Although the matches were dead rubbers insofar as the top of the standings were concerned, all four teams had pride to play for – Mawkriah West and Kharang were in search of their first points, while Kick Start and Synroplang were looking to climb the points table.
Kick Start needed to win and do so by a huge margin in order to take third place in Group A away from Lawei Smit SC but just fell short. Both sides finished the round robin stage with 7 points and head-to-head could not separate them as their 21 June meeting ended 0-0 but Lawei have the better goal difference (-1 to -2).
Today, Kick Start scored through Eliva Kurkalang (5′), Shimtilang Thongni (19′), Banteilang Makri (26′), Daia Mawkhroh (47′, 49′) and Aidaris Kharmalki (60′).
Later, Synroplang were able to move up to fourth place, displacing Iasnohktilang Madanrting FC with their five-goal victory. Daniela Mylliemngap (31′) netted the only goal of the first half but her team mates Ibannika Kharshiing (41′, 53′), Medariiaka Kharkongor (50′) and Peacefully Nongrum (65′) added four more in the second session.
Having earned two back-to-back wins, Synroplang finished with 6 points, while Iasnohktilang ended with 4.
After a break of three days, the highly-anticipated Women's League semifinals will both be held on Saturday at the SSA Stadium at First Ground.
Group A toppers Laitkor SC will face Group B runners-up Lumparing SC at 2PM, followed by Group B winners and defending champions Mawlai SC going up against Group A runners-up PFR Academy at 4PM. Tickets will be available at the venue. The winners will then meet in the final, which will take place on 29th July from 4PM at First Ground.
(Shillong Sports Association photo. Synroplang in yellow vs Kharang in red)