Shillong, Sep 26: Mawlynrei SC climbed up to second place in Group A of the Shillong Sports Association's U-20 Fourth Division 2023 with a 3-0 victory over Umrynjah SC at Third Ground, Polo, here today.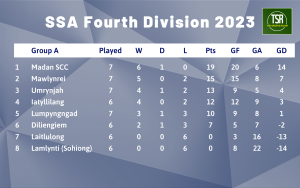 This was the final group game for both sides.
Ferdinand Pyngrope scored a first half hat-trick with goals in the 10th, 15th and 25th minutes, which were his first goals of the season.
From once challenging for the top spot in Group A, Umrynjah are now third with 13 points having not scored in their last three matches, which have only yielded 1 point in their favour.
Mawlynrei now have 15 points but have to keep an eye out for Iatyllilang SC, who have 12 points with one match to go. Iatyllilang have head-to-head advantage over Mawlynrei, so a win for them would give them second place and progression to the quarterfinals along with top team Madan SCC (19 points).
Tomorrow's fixture:
U-20 Fourth Division – Kharang SC vs Mawreng SC, Group B, Third Ground, 5:30PM