Shillong, Oct 1: Six matches were played yesterday in the Shillong Sports Association's U-20 Fourth Division 2023, spread across the day, which brought the group stage to an end at Third Ground, Polo, here.
The biggest results were for Iatyllilang SC in Group A and Pommura SC in Group D as they qualified for the quarterfinals by winning their matches.
Iatyllilang defeated Diliengiem YSCWA 3-1 to move to 15 points, tied with Mawlynrei SC. Though the latter have a better goal difference, SSA tournaments consider head-to-head results first when two teams are tied on points and Iatyllilang had beaten Mawlynrei 2-1 on 24th August, which thus confirmed them in second place.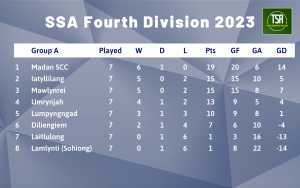 Iatyllilang produce all three goals in a frantic first few minutes with Shwameiaki Kharumnuid (3′, 8′) and Banpyndap Ryndong (10′) taking Diliengiem by storm. The sixth-placed side were only able to respond in the 55th minute via Rijoylang Syiemlieh.
Meanwhile, Laitlulong SC and Lamlynti SC of Sohiong, the two bottom-ranked clubs in the group, played out a 0-0 draw earlier in the day.
In Group D, Pommura were third before today but rose to second with a 3-1 win against Laitkroh SC. Kitborlang Kharkongor (39′, 55′) and Andystar Kharsati (60′) for Pommura and Telling Nongkynrih (59′) for Laitkroh were the scorers, with all four goals coming in the second half of the 70-minute match.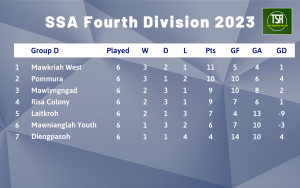 Earlier, the other Group D fixture saw Mawlyngngad SC fight their way back from two goals down to win 3-2 against Mawnianglah Youth SC. Helibert Nongkhlaw (8′) and Aibanjingshai Lyngdoh (26′) put Mawnianglah Youth into the lead but they were unable to hold on to their two-goal cushion going into the break as Badonbok Mawthoh (34′) pulled one back just in time. The second half saw Mawlyngngad continue their comeback with goals from Banskhembok Wanshong (43′) and Freddy Khriemmujat (49′).
Mawlyngngad thus finished in third place, tied with Risa Colony SC on 9 points but in front on goal difference (+2 to +1); their meeting ended in a 1-1 draw on 15th September, so head-to-head is irrelevant.
In the other results, Laitumkhrah SC smashed Madanrting SC 4-0 in Group B, with the goals provided by Amosly Nongbri (14′), Nangtei Kharbangar (22′) and Hamlet Thabah (48′, 57′).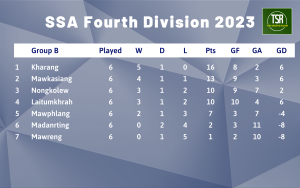 Although they started the season poorly, Laitumkhrah finished it with three wins in a row, including back-to-back 4-0 triumphs (the first coming against Mawphlang SC). However, that was only good enough for fourth place, as Nongkolew SC have head-to-head advantage with a 2-1 win against Laitumkhrah on 2nd September.
And, saving the best for last, Umsohsun SC were behind twice to Lummawbah SC but still came back to win their Group C meeting 4-3 under lights.
Just one of these seven goals was scored in the first half, that of Mewanshngain Ryntathiang (35′) for Lummawbah. Umsohsun then equalised and grabbed the lead with a couple of quick goals from Donkam Marngar (42′) and Gedion Mawiong (45′) before conceding twice to Kevin Royne (48′) and Ryntathiang (50′) again.
That left Lummawbah leading 3-2 but Umsohsun came back once again, with an Aaron Dohling (54′) equaliser followed by the winner via Ibanroi Shangdiar (66′).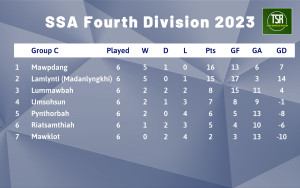 Lummawbah were unaffected in the standings as they were secured in third place but Umsohsun jumped two places from sixth to fourth with the 3 points.
The SSA has yet to inform when the quarterfinals will take place.
In the meantime, the Third Division will begin tomorrow with a Group A match between Krang SC and Nongmensong SC at 4:45PM at Third Ground.