Shillong, Feb 24: Meghalaya secured their place in the semifinal round of the Dr T Ao Memorial Football Tournament with a 4-0 triumph over Tripura in Sonapur, Assam, today.
Man-of-the-match Ronaldkydon Lyngdoh Nonglait scored the only goal of the first half in the 15th minute, before his team mates Samuel Kynshi, Damehun Syih and Phrangki Buam got their names on the scoresheet in the second half.
Tripura were also in the hunt, especially early on, but Meghalaya's defence was up to the challenge.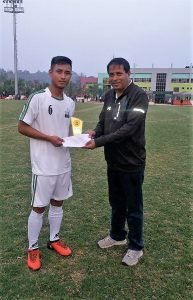 The opening goal came about through a counter-attack with Meghalaya penetrating the opposition defence with pace. Freestar Kharbangar was denied by the goalkeeper, but the rebound fell to Lyngdoh Nonglait on the edge of the box. The No. 6 first swerved past one defender before left-footing the ball past the goalie for the lead.
In the second half Tripura were more aggressive and created a few chances but could not convert. Meghalaya then regrouped and doubled the lead in the 53rd minute through Kynshi after he combined well with Robert Khongjoh.
From then on Tripura's defence caved and Meghalaya were in complete control.
Donboklang Lyngdoh provided an assist for Syih to score the third goal, while Buam bagged the fourth. The latter saw Buam denied by the keeper with a free-kick, but the rebound fell perfectly into position for the No. 10 to make no mistake the second time around.
With two back-to-back wins Meghalaya have qualified for the last-four as toppers from Group B. Meghalaya were supposed to meet Mizoram tomorrow, but the latter team are a no-show, so Group B has been reduced to three teams.
The semis will be played on 27th February.
(Photos contributed)