Shillong, Aug 26: Laitkyrhong won their first match of the Second Division with a 5-1 win in Group A over Sohiong at Third Ground, Polo, today. 
Laitkyrhong experienced two draws and one defeat in their opening three games but found their first three points today.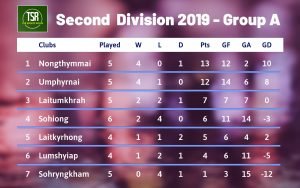 B Nongkynrih picked up a brace (22', 78') and there were also goals for Abhay Chettri (24'), Glennys Lynrah (51') and S Majaw (85'). Before today Laitkyrhong had only scored one goal in three outings.
Sohiong's lone goal came via Raju Kurbah in the 39th minute. This happened to be the 100th goal of the season.
Laitkyrhong now move to five points, above Lumshyiap, and just one behind Sohiong. This was also Sohiong's last match. 
Tomorrow, in Group B, Mawryngkneng are scheduled to face Wahingdoh at 3:15PM.