Shillong, Mar 8: Umsning United cruised into the quarterfinal round of the 3rd Assam Rifles Invitational Football Cup with a 3-0 victory over Nongrim Hills at the Assam Regimental Centre Football Ground here today.
In the earlier game, Mawpat held off a late charge from Umphrup to enter the last-eight of the knockout tournament with a 2-1 win under beautiful blue skies.
Umsning Utd bagged the lead against Nongrim Hills in only the 13th minute with a goal from Oversharp Iawphniaw, but were foiled in their attempts to get any more goals until the second half when Iawphniaw delivered a cross into the box for an unmarked Andyson Lapang to head the ball into the back of the net in the 65th minute.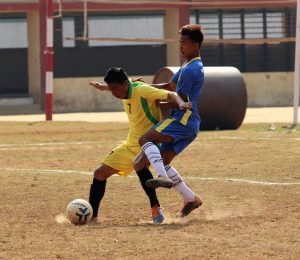 Nongrim tried their level best to get back into the game, but were held off by the Umsning defence and, just to make sure of the result, Lapang scored his second goal in the last minute of play by tapping in a cross from close range.
The other fixture on the day saw Pynehbok Pyngrope (29th minute) and Tyngshain Marboh (43rd) put Mawpat two goals ahead in the first half, but Umphrup refused to give up the fight and James Kharrngi got them a goal in the 75th minute. However, Mawpat held on in the remaining minutes to take the victory.
Tomorrow's matches will also be played at the Assam Regimental Centre. In the 10AM fixture 2016 champions Smit will face Lawmali, while Kith United take on West Madan at 12:30PM.
(Photos contributed by Assam Rifles)