2016 champions Smit also progress in 3rd Assam Rifles Invitational Football Cup
Shillong, Mar 9: Kyntiew Myrthong registered a hat-trick for Kith United, who won their first round match against West Madan 4-0 in the 3rd Assam Rifles Invitational Football Cup at the Assam Regimental Centre Football Ground here today.
In the morning fixture 2016 champions Smit pulled off a 4-1 victory over Lawmali.
After a deadlocked first half, both Kith Utd and West Madan kept up the tempo looking for a goal, but it was Myrthong who found a way through after he headed in a cross in the 69th minute in the knockout game.
The match had been pretty even until this point, but West Madan found it increasingly difficult to make their presence felt on the pitch. Five minutes later Myrthong bagged his brace after being fed with a forward ball. He had to go one-on-one with the opposition goalkeeper, but won that battle and nursed the ball over the line to make it 2-0.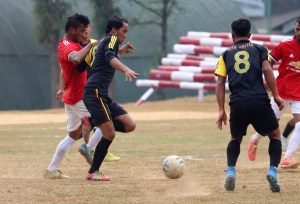 Mel Lyngdoh then found the back of the net in the 81st minute, before Myrthong claimed his hat-trick goal in the 89th minute with a shot from outside the box after being fed a long ball deep from the Kith United half.
Meanwhile, in the earlier contest, Wallamsuk Nongkhlaw scored twice for Smit (8′, 26′), while Readytone Nongbri (75′) and Andy Mawthoh (83′) netted goals in the second half.
B Marbaniang registered a consolation goal for Lawmali in the 89′ minute.
There will be two matches played tomorrow, though the venue shifts to the JN Stadium in Polo. At 10AM defending champions Assam Rifles Laitkor will face Nongkrem, while Pomlakrai take on Ryntih at 1:30PM. Entry is free and all are invited.
(Photos contributed by Assam Rifles)