Football is easily the most popular sport in Meghalaya and you can't have football without the referees. TSR has been speaking to Merrylene Tongwah, one of only a couple of women referees we have in the state today.
Referees are arguably the most unpopular people involved in a football match. Even in a match between two fierce rivals, it's often the officials who are on the receiving end of most of the barbs for their mistakes, whether perceived or actual.
You can imagine, then, what it's like for a woman referee in a hot-tempered match.
"I've had a lot of trouble with players and spectators," one such referee, Merrylene Tongwah, told us. "There are only a few women's matches, so I referee men's matches mostly. Some fans are too bad. They question why a woman is conducting a game instead of being at home. It sometimes gets me mad," she admitted.
On the other hand, though, she does get plenty of encouragement to keep going.
"I do make some mistakes, but I believe that mistakes are a stepping stone to success. I try to take it as a lesson. But getting shouted at by the players can make me scared at times, but I try to use it to build my confidence," she added.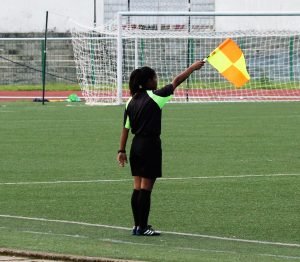 Tongwah started playing football in her village of Jakrem as a teenager. Back then there was no coach there, or even in the district, to coach her, so she had to rely on her own ability and determination.
She then went on to represent the district in its football team and progressed further. In 2012 she took up boxing and three months later she took part in a national tournament. Even though she lost in the quarterfinal round, her performance was good enough for her to be selected by the Sports Authority of India, Shillong.
Unlike in her home village, Tongwah had plenty of coaching support in Shillong. However, she had to make a tough decision on how best to continue her career in sport.
Read more from the Meghalaya women in sport series:
* Archer, judge and administrator Matsiewdor War Nongbri
"I'm from a poor family, so I had to think about it. My parents couldn't keep providing the money for my sports activities and I had to think of them. So, it was in 2014 that I became a referee," she explained.
She went for the exams, but while her fitness was fine, given her athletic background, she found the practicals a difficulty as she didn't have the necessary books, but she got through thanks to the instructors from the All India Football Federation (AIFF).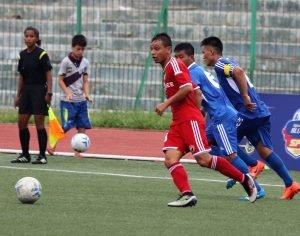 The next year Project Football India (PFI) selected her and that was her first time travelling outside Meghalaya alone and she was apprehensive ahead of that.
"I told Bah Bor Diengdoh (a senior administrator in Meghalaya football) that I'm afraid to go alone, but he encouraged me. That time PFI was holding that course in Gujarat. There were 35 men and I was the only woman. It wasn't easy for me, but I always compete against myself and got through," our referee said.
From there Tongwah has taken other refereeing courses and continued to progress. In January she qualified as a Category 2 referee, which enables her to officiate national matches, like the AIFF's Indian Women's League, which will be hosted by Shillong towards the end of this month.
That'll be a challenge, but, then again, Tongwah seems to relish a challenge. Being a referee isn't easy – in some ways it's tougher than being a footballer.
Tongwah said, "Some people tell me that being a ref is easy, but it isn't. You have to practise and read a lot on the laws of the game and you really have to concentrate so much during a match. We also have to be more fit than the players; we don't have time to walk, like players sometimes do. As a referee you're always on the run, up and down, because you have to stay close to the action, close to the ball."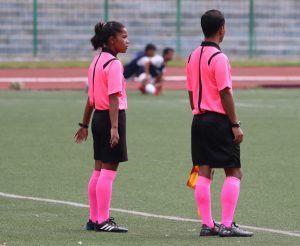 So, has she got any advice for young girls looking to get into the sport?
"My message to all girls is don't waste your time. If you have a talent, whether it be sport or education or whatever, it is God-given and you have to develop it and show it to the world. Because girls have the power," she said.
In South West Khasi Hills they now have plenty of coaches, with long-distance running a priority as the area is a hotbed of talent in this sport, but girls looking to get into football there have fewer role models, "So when I go there I tell them please don't waste your talent. I tell them they have to do something for themselves."
Tongwah has certainly done that and she isn't done yet.
"I have big dreams. Because I'm not here just to be a ref in Meghalaya or India. I want to go all over the world and I'm practising and training every day for that," she concluded.
(TSR photos)