Shillong, Mar 29: Sethu FC picked up three points with a 2-0 victory over Gokulam Kerala in an Indian Women's League South Indian derby at the JN Stadium here today.
Sethu, of Tamil Nadu, won through goals from Sabina Khatun (17′) and Manisha (83′). Both teams had lost their opening fixtures, so this victory gave Sethu their first points of the tournament.
Extremely bad weather delayed the start to the game, but when the fixture finally got going the two teams put on a good show. Khatun timed her run brilliantly to meet a through ball and she swerved past the onrushing goalkeeper to allow her a left-footer that found the back of the net.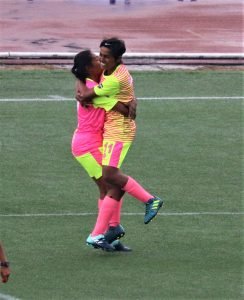 While the action on the pitch was good natured, a bit of a row blew up at half time when a Sethu official complained to the tournament organisers about a matter of protocol or tea or something or the other in full public view. The row went on for around 10 minutes, until the start of the second half.
Back on the pitch, both sides were within inches of scoring just after the start of the second session. Manisha then scored with less than 10 minutes left on the clock for the win.
There are no matches tomorrow on account of Good Friday. Three games will be held on Saturday – KRYPHSA vs Rising Students Club at 8AM, India Rush vs Eastern Sporting Union at 11AM and Indira Gandhi Academy vs Gokulam Kerala at 3PM.
(TSR photos. The featured picture is of player of the match Sowmiya N, Sethu's goalkeeper)