Shillong, Mar 31: Gokulam Kerala moved off the bottom of the Indian Women's League points table with a 6-1 victory over Indira Gandhi Academy for Sports and Education (IGASE) at the JN Stadium here today.
IGASE actually took the lead through Sumithra in the 24th minute, but Gokulam fought back, with Ugandan Ikwaput Fazila scoring five goals in the Kerala team's impressive comeback.
Meanwhile, in today's earlier matches KRYPHSA of Manipur drew 1-1 with Rising Students Club, while reigning champions Eastern Sporting Union eclipsed India Rush Soccer Club 3-1.
Although awarded to Fazila, Gokulam's equaliser in the 32nd minute looked – at least from the stands – more of an own goal as the striker's cross took a heavy deflection off the boot of a IGASE defender before going into the net.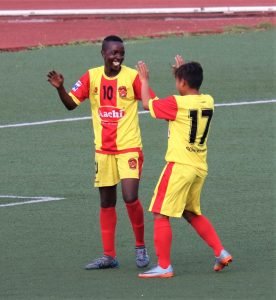 A long ball in the 42nd minute was then headed in off the bounce to make it 2-1 and the Ugandan grabbed her hat-trick in first half stoppage time as she battled a defender before pulling off a targetted left-footer from inside the box.
The No. 10 wasn't done and added more goals in the second half, first in the 58th minute and then in the 76th, with the latter probably her best; IGASE's defence let their guard down enough for Fazila to meet a long ball, but she then had to swerve expertly past another defender who had tracked back and then, while keeping an eye on the goalkeeper's position, aimed a low shot along the ground that found the back of the net.
Fazila was soon substituted and that pushed her team mate Anita Rawat into striking duties and she added Gokulam's sixth goal in the 81st minute from inside the box.
This was Gokulam's third match of the competition, their first win and first time they've scored. Meanwhile, Eastern Sporting continued their winning ways and are at the top of the table with 9 points from three outings. Immediately following them, KRYPHSA and Rising Students both have 4 points, but the former are in front on goal difference.
Monday will see another three IWL fixtures – at 8AM Gokulam will face their biggest challenge as they play ESU, at 11AM Rising Students go up against Sethu and at 3PM KRYPHSA will face bottom team India Rush.
(TSR photos. Gokulam Kerala are in yellow, IGASE in purple)