Shillong, Apr 6: Abhinash Rabha won the gold medal yesterday for Meghalaya in the individual category of the 25th Senior Indian Round Archery Championship in Pune.
Rabha took gold in the 30m event, while, in the team event Meghalaya will take part in the semifinals today. Rabha's team mates in the Indian Round are Kumar Ale, Rajeev and Larilang Lyngdoh, the Archery Association of Meghalaya informed through a press release yesterday.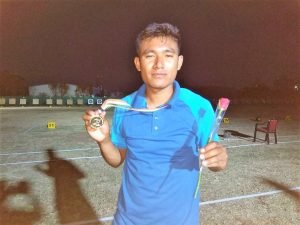 As part of the same overall competition are the 38th Senior Recurve and 14th Senior Compound championships, which will follow after the Indian Round.
Meghalaya's recurve team comprises Mukesh Tamang, Sonam Palden Lepcha, Ch Achanba Singh and Kitboklang Pasi. The compound team is made up of Tabungsha Singh, Rajesh Rana, Bijay Rai and Jagrit Gurung.
The coaches are Jag Prasad Thapa (Indian Round), Chungda Sherpa (recurve) and Sonam Tshering Bhutia (compound).
The championships began on 4th April and will run until 13th April at the Army Sports Institute in Pune.
(Photos contributed by the Archery Association of Meghalaya)