Club claim those with 'vested interests' trying to hurt the team
Shillong, May 14: I-League champions Minerva Punjab FC's owner Ranjit Bajaj (pictured right) has been slapped with a one-year ban from all football activity as well as a Rs 10 lakh fine by the All India Football Federation (AIFF) yesterday after the governing body found him guilty of racist remarks made towards a Meghalaya referee, Pynskhemhame Mawthoh, according to reports.
The incident occurred during Minerva's U-18 Youth League playoff match against Aizawl FC on 12th May, which ended 1-1. The playoffs, which concluded today, were held here at the JN Stadium and Third Ground.
The AIFF disciplinary committee said that this was Bajaj's fourth offence within a year.
"Bajaj acted like a criminal indulging in series of hooliganism, abusing the Match Officials in filthy languages, threatening them openly, making racist remarks against the Match Officials. Certainly, none of these can be equated with an educated Guardian of a Sports Club," the committee's report stated, according to the Times of India.
The AIFF website published a report today evening on the disciplinary committee decision, but does not mention Bajaj by name, simply referring to him as a "senior official" of the club. Mawthoh is also not named.
The ban means that Bajaj cannot take part in football-related activities or even enter a stadium hosting an AIFF tournament. He has reportedly denied the charges.
Minerva Director and Co-Owner Henna Singh took to Twitter to slam the judgement, suggesting that Bajaj was the victim of a conspiracy.
Singh also seemed to rubbish the very idea that Bajaj could make racist remarks given that Minerva's squad and officials have a large representation from the North East.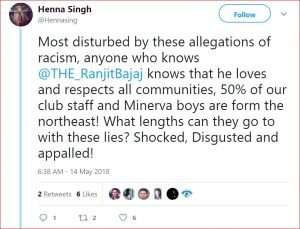 (Photo credit: Atanu Roy/Facebook)