Shillong, May 27: Former India international Renedy Singh is of the opinion that while the country is steadily improving in the world of football, it is still decades away from making it to the World Cup.
"India is going in the right direction, but it is really far (from the World Cup), at least 30-40 years. That is if we work really hard. We have to be really organised," Singh told All India Radio in an interview to be broadcast later today. "Our strength is that we've got room [to go up the rankings]. We are so low now that we can only go up. I have been in football for 20-22 years, so I have seen the worst days and I've seen better days – like players getting better facilities, getting good coaching, playing with World Cup stars, earning a good living. So, it is improving and we just have to keep working. I think we are on the right track."
With Asia having just a handful of slots in the World Cup, India really has its work cut out in qualifying for the mega tournament as countries like Japan, South Korea and Iran are already well-established in football.
As of 26th May India are 97th in the FIFA rankings, behind Palestine and just ahead of Armenia. The country has only ever qualified for the World Cup once, back in 1950, but didn't actually participate.
"It's very difficult to break in but we have to break in and we have to start slowly, not forgetting about … the Asian Cup. Before we go to the World Cup we have to do well in the Asian Cup," Singh, a former midfielder with over 50 appearances in the Indian senior team, said. "In our group (for next year's Asian Cup) we have Thailand, Bahrain and the UAE. And that's in another six months. That's where we have to do well if you want to qualify for the World Cup."
Singh, who had played for numerous clubs, such as East Bengal, Mohun Bagan and Shillong Lajong, also spoke about how he got into football, his career and the future.
His father was a football player and coach but didn't want his son to concentrate too much on the game because in the 1980s there wasn't much of a career in the sport.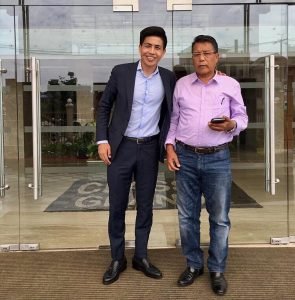 "In those days football was not big. My father was a footballer but by playing football he couldn't do much. There was no future like now. So, my father knew that I was really interested in football but he never allowed me [to play much] because he knew that in football you are not going anywhere," Singh said of his early years. "Now, say if you're Sunil Chhetri, he's earning Rs 1.4 crore in four-five months. In those days my first professional contract was Rs 80,000 for the whole year."
You can catch the full interview on 'In a League of Their Own' on the North Eastern Service of All India Radio today at 7:05PM on 100.1 FM, DTH and online.
(Featured photo: All India Football Federation)