Shillong, Jul 27: Shiningstar Basaiawmoit came a commendable third place in the U-21 Asia category of the Malabar River Festival kayaking event, which was held in Kerala last week.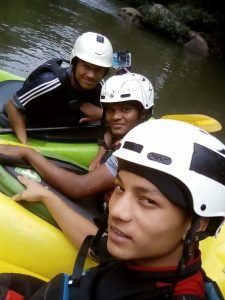 Basaiawmoit lives in Law Byrwa, near Umsning in Ri-Bhoi, and kayaks at Whitewater Village on the Umtrew River in Umtham.
He finished behind Aashish Rawat and Neeraj Singh Mehra.
Juneborlang L Nongbri (also of Law Byrwa) and David Vincent of Umtham also did very well in the kayaking event.
There were around 100 participants in all drawn from 19 countries.
The men's category was won by Mike Dawson of New Zealand, while the women's was won by Nouria Newman of France. They were crowned 'Rapid Raja' and 'Rapid Rani' respectively.
The Malabar River Festival was founded in 2013 and holds the kayaking events during the monsoon season when river levels are high.
(Photos contributed)