Shillong, Jul 5: Sawmer held onto the lead of the U-18 Shillong Premier League 2018 after playing out a goalless draw against Rangdajied United here today.
This was the fourth goalless draw of the season, of which Rangdajied have been involved in three.
Sawmer are at the top of the points table with 14, one ahead of RUFC. Below these two teams, but with a game in hand, are Langsning (12), Shillong Lajong (11), Nangkiew Irat (8) and Malki (1).
Malki got their first point yesterday in a 1-1 draw against last year's runners-up Langsning. In their first meeting of the season Langsning surely would've expected to triumph over Malki, who had lost all six of their prior matches.
However, Malki have been steadily improving of late and haven't been beaten by more than a one-goal margin in their last two outings.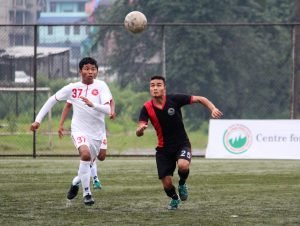 Langsning received a shock when Banrikupar Lyngdoh beat the goalkeeper to the ball and put it into the net in the 31st minute. This was Malki's earliest goal this season and their maiden first half goal.
Langsning then equalised minutes from the end of the game through Hamboy Lyngdoh in the 84st minute. This was the club's latest goal this season but they've scored almost all of their goals in the second half (9 out of 10).
Langsning will be back in action tomorrow when they take on Nangkiew Irat at 3:45PM.