Shillong, Jul 24: Exactly 10 years after his cricketing career was cut short, Mark Ingty, one of only two Meghalayans ever to play Ranji Trophy cricket, is hoping to make a comeback.
With Meghalaya and other New Area Development Programme (NADP) states set to be included in India's first-class cricket structure, Ingty feels that interest in taking up the sport in the state will "really pick up".
Speaking from Guwahati over the phone, Ingty, who still plays club cricket here in Shillong, described Meghalaya's inclusion in the Ranji Trophy as "fantastic for cricket in the North East and Shillong especially."
Of the two proposals to include the smaller states, Ingty, who played for Assam up to 2008, is in favour of Meghalaya and the others participating in a 'B Division' instead of having a joint North East team battling it out in the Ranji Trophy proper with the more established states.
There's still a long way to go, however, for the state to be successful in the game.
"We have a good set of boys, but better infrastructure is needed. We won't win the Ranji Trophy in even five or 10 years, but the boys need the exposure," he said.
Infrastructure needed
That infrastructure includes an indoor facility, which Meghalaya "needs badly." The cricket ground in Polo is overused, so one more cricket stadium and a few small ones for school cricket are also necessary, according to Ingty.
"We need something indoors because when the rains come we can't play anymore and we can't compete with other states because they play throughout the year. Perhaps we should look at Nagaland as a model because they've built infrastructure there themselves rather than waiting for the BCCI or anyone else," he went on, adding that a quality stadium could even make Meghalaya a venue for international cricket matches, like Dharamshala has become by capitalising on its scenic beauty.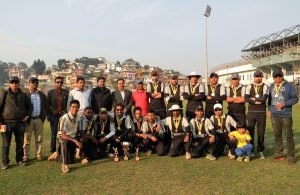 Plenty of preparation also has to go into getting the state ready for the Ranji Trophy, said the fast bowler, beginning from getting fitness levels up to standard and taking part in exposure tours and the other tournaments that lead up to the Ranji Trophy.
Cricket is a popular sport in Meghalaya, at least to watch on television, but lags considerably behind football, especially among the tribal population of the state. Ingty, who took 35 first-class wickets for Assam, has a feeling, though, that this will change.
"Earlier, before the coming of the Indian Super League or I-League, parents would never want to send their children to play football. And until a year back it was the same with cricket. Then we had Meghalaya taking part in U-16 and U-19 tournaments and that opens up the opportunity to make a career in the sport because today you can get good pay even at the domestic level, not just playing for India," he said.
Bishan Singh Bedi's influence
So, where did it all begin for him? The Shillong-born player went to school in All Saints and did his college in St Anthony's. Learning cricket came under uncle Peter Lamare (still a Meghalaya Cricket Association (MCA) administrator, pitch curator and coach) who "taught us everything". Lamare's son and Ingty's cousin, Jason, is the other Meghalayan cricketer to have played in the Ranji Trophy.
It was a meeting with outspoken former India spinner Bishan Singh Bedi in New Delhi, however, that really got him on the road to a cricketing career.
"Not everyone likes him (Bedi) because he calls a spade a spade and really tells it like it is. But he encouraged me and really pushed me. He saw me in Delhi and it's because of him that I got into cricket," Ingty recalled.
Taking the wicket of Sourav Ganguly
He worked hard and got a place in the Assam team. According to ESPNcricinfo, Ingty played 14 first-class and seven List-A matches for the neighbouring state, with a total tally of 46 wickets. These include one five-wicket haul in a first-class game and the wicket of Sourav Ganguly in a one-day match (which also brought him his best figures in that form of the game – 3/28).
"I remember it (taking Ganguly's wicket) and he remembers it too," he said with a laugh.
Despite only being paid a measly Rs 400 a day, he didn't care. Playing cricket was great fun.
Hammer blow
But then the hammer blow came.
In 2008 Meghalaya became affiliated with the BCCI. Before that it was merely linked with Assam, allowing Ingty to play his cricket for that state. He was informed the day before the squad was set to depart for a tournament that he would not be in the team.
"At that time I was told that in two or three years it would be sorted but nothing happened," he said. "I still felt I had something to give to the game. It was a difficult time and very painful."
He was an Air India employee then and remains one today. Based in Guwahati, he still comes up to Shillong to play in the local league (he's a member of United XI Cricket Club) and he hasn't given up hope of returning to the Ranji Trophy.
"I've requested the MCA and my selection shouldn't be based on what I did in the past, but only if they feel I can still give something to the team today," Ingty said.
(Photo contributed)