Shillong, Sep 9: Shillong College and Gladiators were crowned the champions of the maiden Laban SC Invitational Futsal Tournament 2018 here yesterday after two entertaining title matches.
In the first match, which was the final of the veterans' division, Gladiators beat a team representing the Meghalaya Swimming Association (MSA) 6-5. The eventual champions took out a two-goal lead at the start, but MSA fought back hard and only narrowly lost the match.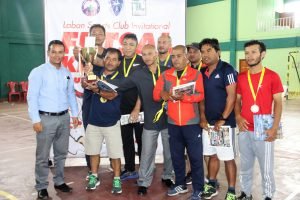 Following that came the final of the main competition, in which Shillong College came from behind to register a terrific victory over St Anthony's Higher Secondary School 11-7.
St Anthony's pulled out a 4-1 lead at one point, but Shillong College rallied and later on in the game the score stood even at 6-6.
The Anthonians would then go on to score their final goal, leading by 7-6 before the college kids stormed back and scored five goals to win the thrilling contest befitting of a final 11 goals to seven.
The tournament was held at the Laban SC's indoor stadium and was organised in collaboration with the Futsal Association of Meghalaya (FAM) and Touchline Northeast. Thirty-two teams entered the competition with 12 members per team in 30-minute matches.
Invited teams were divided between four 'pots' – Pot A comprised professional clubs, Pot B community clubs, Pot C colleges and Pot D schools.
The veterans' division was contested by eight teams in all.
FAM President Dr Brightstar Langbang was the chief guest on the occasion of the final. He and Laban SC President Sammy Myrthong gave away the trophies to the winning teams and runners-up.
Best Goalkeeper: Mebanrilang Suchiang (Shillong College)
Top Scorer: Samuel Kynshi (Shillong College)
Man-of-the-Match: Dawanchwa C Challam (St Anthony's HSS)
Most Disciplined Team: St Anthony's HSS
(Photos contributed by Laban SC. The featured photo is of the Shillong College team receiving their winners' trophy from Laban SC President Sammy Myrthong)