Shillong, Sep 24: The X1.In Championship, a national mixed martial arts (MMA) event sanctioned by MMA India, concluded with terrific fights on the final day on Sunday at the Laban SC Indoor Stadium.
Organised by CR Projects, the Shillong leg of the tournament saw hundreds of spectators, both young and old, throng the indoor stadium and cheer on their favourite fighters. Fighters hailed from all over the country, including 14 from Meghalaya and several others from other North East states, like Assam and Nagaland.
As with the first day, there was one Meghalaya winner on Sunday – the young Carnold Marboh, who overcame his opponent Matsung Ozukum by a majority decision of the judges after three gruelling rounds. Marboh joined Johnny Nongrum, who won his bout on Saturday.
The other Meghalayan MMA fighters showed great promise, which is encouraging as the sport is still at its nascent stage.
Sunday also saw the only women's fight – that of between Meghalaya's Apdalein Marwein and Akshata Khadtare. Marwein pushed her opponent to a full three rounds, but lost on a unanimous decision of the judges.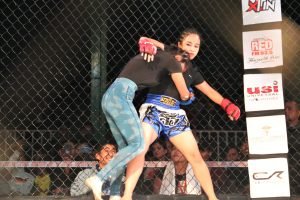 Winners from the Shillong edition will go on to the finals in Dimapur later in the year. All the fighters received prize money, with Rs 50,000 going to the winners and Rs 30,000 to the losers.
Jason Mawlong, Umsning MLA, was the chief guest at the closing ceremony and gave away the certificates to the participants.
Both amateur and professional fights were of three rounds. Each round of the amateur fights was of three minutes, while the rounds in the professional fights were of five minutes.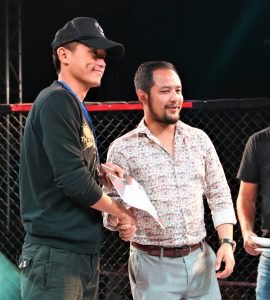 Full results:
Day 1:
Bout 1
Winner – Palash Mankodi
Opponent – Abhigyan Pol
Via Unanimous decision
Bout 2
Winner – Deepesh Bhagel
Opponent – Earlmond Lyngdoh
Via TKO (technical knockout) 2:21 mins Round 2
Bout 3
Winner – Aloto Zhimomi
Opponent – Evanston Thangkhiew
Via Arm bar 1:40 Round 2
Bout 4
Winner – Hinahito Aye
Opponent – Hugai Raj
Via TKO 1:55 Round 2
Bout 5
Winner – Ankur Patel
Opponent – Abhijit Gogoi
Via KO 44 secs Round 2
Bout 6
Winner – Tousif Malik
Opponent – Chonbemo Odyuo
Via Unanimous decision
Bout 7
Winner – Mairidin Newmai
Opponent – Purushottam Prabhakar
Via rear naked choke 2:30 Round 1
Bout 8
Winner – Siddarth Trivedi
Opponent – Amith Kumar
Via TKO 2:33 Round 2
Bout 9
Winner – Kekhrieniesto Angami
Opponent – Winner Talang
Via rear naked choke 1:43 Round 1
Bout 10
Winner – Arsenba Ozukum
Opponent – Bibet Warjri
Via rear naked choke 1:19 Round 1
Bout 11
Winner – Vishnu Warrier
Opponent – Welford Nongkhlaw
Via unanimous decision
Bout 12
Winner – Anuj Varma
Opponent – Wapang Pongen
Via corner stoppage 2:53 Round 3
Bout 13
Winner – Johnny Nongrum
Opponent – Aditya Sunil
Via Majority decision
Day 2:
Bout 1
Winner – Avizo Lanamai
Opponent – Lamkordor Kharmyndai
Via Unanimous decision
Bout 2
Winner – Karan Bhinmala
Opponent – Benedict Lamin
Via Unanimous decision
Bout 3
Winner – Carnold Marboh
Opponent – Matsung Ozukum
Via Majority decision
Bout 4
Winner – Dilip LR
Opponent – Abdul Khader
Via Unanimous decision
Bout 5
Winner – Ravi Jadhav
Opponent – Rakesh Singh
Via Unanimous decision
Bout 6
Winner – Navdeep Aggarwal
Opponent – Mickey Sumer
Via Tap out
Bout 7
Winner – Kaushik Saikumar
Opponent – Naresh Kumar
Via Unanimous decision
Bout 8
Winner – Manthan Rane
Opponent – Prakop Rai
Via rear naked choke 44 secs Round 1
Bout 9
Winner – Akshata Khadtare
Opponent – Apdalein Marwein
Via Unanimous decision
Bout 10
Main card Bout 1
Winner – Sunny Khatri
Opponent – Andy Masynting
Via Unanimous decision
Bout 11
Main card Bout 2
Winner – Atif Mohammed
Opponent – Choudhurimayum Ananda Sharma
Via knockout 21 secs Round 1
Bout 12
Main event
Winner – Susovan Ghosh
Opponent – Pranjal Bordoloi
Via knockout 34 secs Round 1
(Photos contributed by CR Projects. The featured photo is of Carnold Marboh (standing) vs Matsung Ozukum)