Shillong, Jan 22: The Khelo India Youth Games concluded today in Guwahati with Maharashtra (pictured) crowned overall champions with a rich haul of 256 medals, but at the opposite end of the table lay Meghalaya, who finished with zero.
Meghalaya's participation actually concluded a few days ago as the state only competed in five disciplines – football, athletics, boxing, judo and shooting.
A total of 1,448 medals were dished out at the Games and the fact that Meghalaya couldn't win even one of these despite the efforts of the athletes means that the sports authorities in the state need a serious sit-down to chart the best way forwards.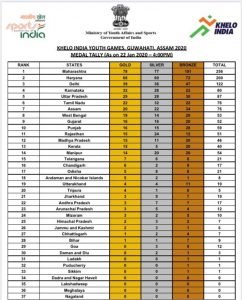 Altogether 37 states and Union Territories took part. Apart from Meghalaya only three other teams failed to win a medal – Nagaland, Lakshadweep and Dadra & Nagar Haveli.
Assam was the best-performing North East state, finishing seventh, with Manipur 14th, Tripura 20th, Arunachal Pradesh 23rd, Mizoram 24th and Sikkim 33rd.
(Khelo India Youth Games photo)