Shillong, Oct 9: Meghalaya Police are on the verge of being relegated after they were consigned to their fourth 1-0 defeat in the last five games of the Shillong Premier League, this time to Shillong Lajong at the SSA Stadium today.
Sheen Sohktung scored the 82nd minute goal, which means that Lajong are guaranteed to finish the league stage in no lower than second place and today's result has other consequences as well. Nangkiew Irat, who would've been watching this match closely, are definitely not going to be relegated this season.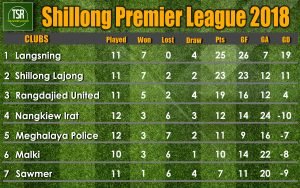 Like Nangkiew, MLP have now also ended their league campaign and remain behind Nangkiew by just one point. Malki, meanwhile, still have two games to play and just need one point to exit the drop zone as they have head-to-head advantage over the police. Rangdajied United, for their part, will finish no higher (or lower) than third.
Relegation would be a tough pill to swallow for MLP, as in the early part of the season they were as high as third after three rounds and fourth just before the end of the first leg.
Today's match saw them defensive for much of the game, content to fire in long balls in the hope of finding either Niwan-o Gatphoh or Raja Shadap.
This tactic didn't work, but SLFC weren't creating any fireworks either – they didn't have a single shot on target in the first half.
MLP actually had the first few good chances to score, with an Emerald Jyrwa shot collected by Neithovilie Chalieu, Lajong's goalkeeper, in the 18th minute. Just before that Ambrous Syngkli went inches wide with a header off a corner kick.
Lajong's best chance of the half came when Parvaj Bhuiya missed the ball in an attempt to convert an excellent cross by Naorem Mahesh Singh with less than 10 minutes on the clock.
After a period of defensiveness, MLP started giving Lajong something to worry about with an uncharacteristic display of attacking football.
Their best opportunity came about in the 66th minute when Teiborlang Siangshai was off target by a few centimetres at the most when his free-kick crashed into the upright.
Three minutes later it was SLFC who were exerting some pressure of their own and with police goalie Kenio Lyngkhoi drawn out of his normal position Lajong had an empty to goal to aim at but somehow Samuel Kynshi missed.
The goal finally came about in the 82nd minute when, after some good combination play by Robert Khongjoh, Samuel Kynshi and Sohktung, the latter scored from close range. No team has conceded more goals than the cops in the last 10 minutes of an SPL match this season (7) and no side has scored more in that period than Lajong (also 7).
On Thursday Rangdajied will play Malki at 4PM.
(TSR photo. Meghalaya police are in red and blue, Shillong Lajong in white)