Shillong, Oct 17: Shillong Lajong will go into the I-League 2018-19 season with an all-domestic squad. That means no foreigners. At all.
This was revealed on Sunday in separate stories on Goal.com and The Times of India.
First let's get TSR's opinion out of the way: It's either going to be a complete disaster (meaning relegation) or one of those inspiring stories of a plucky, young bunch of lads defying the odds and winning the title (meaning Bollywood movie, no doubt). Or it could just mean that Lajong battle for most of the season to avoid relegation and somehow pull it off (we've seen plenty of that over the years).
SLFC Managing Director Larsing Ming Sawyan told TOI that the club have taken this call in order to "produce quality Indian players" and "boost Indian football" by using the money they could've splurged on foreign footballers in developing local talent.
Now, this could well be the case.
However, Lajong have always said that they operate on a small budget. Whereas other teams might be able to draw on large injections of cash prior to a season provided by wealthy owners, Lajong have tried to put their finances on a sustainable footing. That means surviving off sponsor funds, player trades, ticket sales and innovative ideas like starting a mobile phone shop in Shillong whose proceeds go into the club.
It could be that one of these avenues of cash has dried up, rendering Lajong unable to look for foreign players. So, it might be that it isn't so much a "policy" (as TOI chose to describe it in its headline) that Lajong chose willingly but more like a choice they were forced into due to unfavourable circumstances.
Or it could be that, with the whole I-League-Indian Super League thing still up in the air, Lajong aren't that interested in investing money with the footballing environment so uncertain.
Sawyan also made a curious statement to TOI when he said, "A Sony Norde can win you the league, but how will that help in improving the game in the country?"
That strikes TSR as odd as it seems to suggest that his players didn't benefit from playing alongside the likes of Oh Juho, Penn Orji, Aser Dipanda or Cornell Glen in the past. It also suggests that Sawyan has resigned himself to Lajong not winning the I-League.
Coach Alison Kharsyntiew was a little more bullish, but only a little. He told Goal that he "won't aim low", but that getting into the top five would be a "huge achievement". The highest Lajong have ever been in eight I-League seasons is fifth (in 2016-17). They were sixth last year.
Consider past performances of Indian Arrows and you quickly realise the risk SLFC are running this year.
Exempted from relegation worries because they are an All India Football Federation development team and stuffed with youngsters from across the country, the Arrows finished dead last in 2017-18 with just four victories in 18 matches. But Lajong have no such exemption.
Can the Reds do something better?
The club haven't revealed their squad, but it's likely to closely mirror the one taking part in this year's Shillong Premier League.
Let's look at the positives. They've been giving chances to their youth players for years now.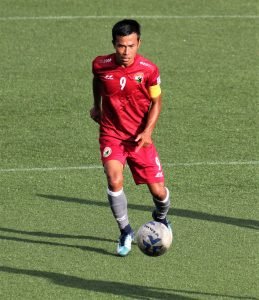 He may still be an U-22 forward but Samuel Lalmuanpuia, who captained the side last year, has made over 40 appearances for Lajong in the I-League and is their fifth-highest scorer of all time with seven goals. Sheen Sohktung also seems to have made a full reintegration into the Lajong setup after spending some time away at Rangdajied United. Mahesh Singh Naorem also looks like being a good forward player from what we've seen of him, while Parvaj Bhuiya looks like he's got a little too much adrenaline pumping through his system.
Then there's the winger Rakesh Pradhan, who was the only player last year to play in every one of Lajong's I-League matches. Kenstar Kharshong and Aiban Dohling also make a good pairing in defence, though the latter still looks at times to have yet to fully recover from injury.
After Lalmuanpuia, midfielder Hardycliff Nongbri is next up in terms of I-League experience with 20 caps. Lalrohlua, another midfielder, has impressed TSR with his composure in this year's SPL.
Phrangki Buam, Samuel Kynshi and Kynsailang Khongsit were all part of the Lajong side that won the U-18 Youth League (along with Kharshong and Lalrohlua) earlier this year, with only Buam not having made his I-League debut.
Among the goalkeepers, Phurba Tempa Lachenpa has the experience of playing in last year's I-League, but Neithovilie Chalieu is, to our mind, the more complete goalie despite being less physically imposing than his team mate.
The other positive is that the boys have all largely been playing and training together for months, if not years. That's got to count for something.
So, they have a solid team. But will it be enough to make an impact in the I-League? Let's wait and see. Lajong's opening game of the season will be a North East Derby against Aizawl at home on 28th October. Fingers crossed.
(TSR photos unless otherwise stated)