Shillong, Oct 29: The gruelling second edition of the Mawkyrwat Ultra marathon events passed off in South West Khasi Hills district on Saturday.
Tlanding Wahlang crossed the finish line of the headlining 72km event in the men's category in 5 hours, 39:24 minutes, while Darishisha Iangjuh won the corresponding women's event in 8 hours, 33:16 minutes.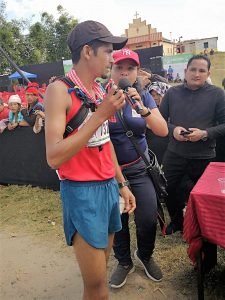 In all 155 runners took part in the 30km, 45km and 72km races.
The Mawkyrwat Ultra, organised by RunMeghalaya, is certified by the International Trail Running Association (ITRA), the body governing international trail races, with the 72km to be an ITRA Level 2 race and 45km an ITRA Level 1 race. This event is now also an Ultra Trail Mont-Blanc (UTMB) qualifying race. This means that any runner who wishes to gain UTMB points in order to qualify to the prestigious UTMB races can use Mawkyrwat Ultra as a platform to achieve those points.
The Mawkyrwat Ultra awarded each finisher with a very unique handmade medal specially crafted for this event – the traditional Khasi lock. Each lock is crafted from recycled metal sheets, umbrella struts or iron rods, which are folded and shaped into their respective sizes.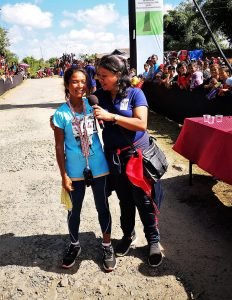 72km podium finishers (men):
1st Tlanding Wahlang (5:39:24); 2nd Okitlang Syiemlieh (6:24:12); 3rd Arbet Nonglang (6:37:25)
72km podium finishers (women):
1st Darishisha Iangjuh (8:33:16); Aakriti Verma (10:15:23); 3rd Meenakshi Sampat Kumar (11:25:03)
45km podium finishers (men):
1st Fullningstar Lyngdoh (3:10:41); 2nd Shanborlang Mawlong (3:12:47); 3rd Rajessing Marwein (3:23:32)
45km podium finishers (women):
1st Snora Lyngkhoi (4:28:21); 2nd Bandasharai Marwein (4:36:44); 3rd Tshering Lamu Bhutia (4:41:56)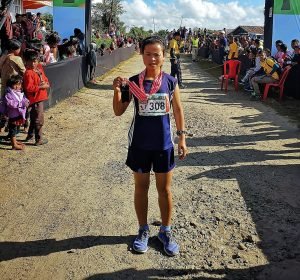 30km podium finishers (men):
1st Jomsingstar Ramsiej (2:03:25); 2nd Baristarlan Pariong (2:06:43); 3rd Bansing Marngar (2:07:14)
30km podium finishers (women):
1st Dateibankynmaw Marwein (2:41:30); 2nd Bankinus Wanniang (2:58:11); 3rd Shantilin Wanniang (3:00:56)
(Photos: RunMeghalaya/Facebook. The featured photo is of Darishisha Iangjuh (left))