Shillong, Jan 7: Unable to return good enough results while in charge, the coaches of Aizawl FC and Mohun Bagan – Gift Raikhan and Sankarlal Chakraborty respectively – have both put in their papers over the last day or so.
Aizawl, the 2016-17 champions, have been dropped into 10th position after a shock 1-0 loss at home to Indian Arrows on 5th January.
Mohun Bagan, who were the 2014-15 champions, also suffered an unwelcome home defeat the following day when they lost to Real Kashmir 2-1. The Mariners are in sixth position in the table have have only won one match in Kolkata this season, which came against bottom club Shillong Lajong.
With such poor performances both Raikhan and Chakraborty may well have jumped before they were pushed out.
Raikhan joined Aizawl in June after leading NEROCA to second place in 2017-18 in their debut season. He was named Best Coach at the end of the season. Chakraborty, meanwhile, has been with Bagan for a number of years, first as assistant coach before being promoted last year.
Goal.com reported today that Khalid Jamil, who led East Bengal last season and who, famously, was in charge of Aizawl when they won the I-League the year before, will take over from Chakraborty.
Both Aizawl and Bagan paid tribute to their departing coaches.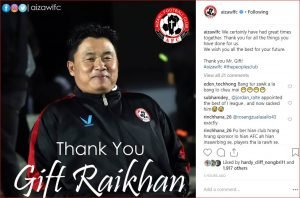 Bagan wrote of Chakraborty: "The club management accepts his decision (to resign) and would like to thank him for all the success and hard work he has done being in charge of the senior team for the past years. We wish him all success for his future endeavours."
(TSR file photos)